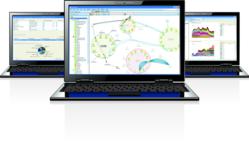 "These real-time views and data flows provide insight more easily derived without the use of time consuming command-line interfaces, or generating multiple reports." Jonah Kowall, Research Director, Gartner Group
Honolulu, HI (PRWEB) November 30, 2012
Furthering its leadership in network management visualization, ActionPacked! Networks® today introduced new LiveAction® LAN, LiveAction Flow, and LiveAction QoS capabilities that collectively offer an accurate panoptic view within complex network environments. Through a simple, fast, and intuitive graphical format, these latest features help IT professionals quickly visualize and confidently manage their intricate network systems that would otherwise be difficult to conceptualize referencing complicated command-line methods.
"Networks continually increase in complexity, creating visibility and management challenges. This is being accelerated with unified communications, collaboration, and other data heavy applications, often the responsibility of the network professionals." said Jonah Kowall, Research Director at Gartner. "By adding rich graphical and graph based visualizations and not just standard reporting these complex relationships and data sets can be visualized using Topological Analysis, which in turn can have more complex analytics applied to them. These real-time views and data flows provide insight more easily derived without the use of time consuming command-line interfaces, or generating multiple reports."
LiveAction Feature Highlights – Visualize Quickly, Manage Confidently
To address evolving network needs and increasing IT management challenges, LiveAction innovative new features focus on QoS management and building a highly interactive mental model of the network. Maps of devices create a visualization of the network, from the intricacies of a single physical device to multi-layer topological information on connections, traffic, and routes. Network elements and links using color cues and graphic images indicate status and alarms. This helps users quickly see network activity so they can confidently manage incidents. New LiveAction capabilities include:
LiveAction LAN

Simplifies troubleshooting Layer 2 spanning tree protocol (STP) where for the first time, users can instantly see and understand the actual network through a topological view of root bridges, forwarding, listening, learning, and blocking connections
Select and view either the VLAN path, STP, or both simultaneously within various aspects within the topology
Support for alerts when STP topology change occurs and LAN reports for STP state
Increased QoS real-time statistics for Cisco® Catalyst® 3000 and Cisco Catalyst 2000 devices
LiveAction Flow

Improvements to system topology view and flexible NetFlow reports help enable users to better understand traffic and applications in real-time by offering a clear and comprehensible view of the network
Allowed Mediatrace initiation from a user-defined device and for a user-define duration time
LiveAction QoS

New modular QoS CLI (MQC) support for the Cisco Catalyst 4500
"The new model of IT network management is shifting toward a visualization approach. One which provides network administrators with a time-saving, comprehensive view of live traffic in and across their network," said Dana Matsunaga, president and CEO, ActionPacked! Networks. "LiveAction is unique in its ability to deliver a superior network management visual experience, helping our customers increase overall network productivity and react faster to ever-changing demands of their business."
Download a free trial of LiveAction at http://www.actionpacked.com/liveactiondownload. For more information on ActionPacked! Networks, visit http://www.actionpacked.com.
Tags/Keywords:
Network Management, Network Performance Management, Network Visualization, Network Provisioning, Network Troubleshooting, Network Security, Collaboration, Virtualization, Data Center, Borderless Networks, Medianet, Application Visibility and Control (AVC), Cisco QoS, QoS, NetFlow, S-Flow, J-Flow, IPFIX, FNF or Flexible NetFlow, IPSLA, LAN, LiveAction, Dana Matsunaga
About ActionPacked! Networks
ActionPacked! Networks is the leader in quality-of-service software for implementing VoIP, Telepresence, Unified Communications, Medianet and other mission-critical services. The company's LiveAction software increases network service quality and shortens outages by providing true understanding and precise control using rich visualizations and direct device interaction. LiveAction is a sophisticated network management tool that helps simplify the complexity of monitoring, analyzing, and configuring technology areas such as: QoS, LAN, NetFlow, Routing, and IP SLA embedded inside Cisco devices to provide an all-in-one solution that can support both QoS auditing and provisioning.
###
ActionPacked! Networks and LiveAction are registered trademarks of ActionPacked! Networks. Cisco, the Cisco logo, and Catalyst are registered trademarks of Cisco Systems, Inc. and/or its affiliates in the United States and certain other countries.