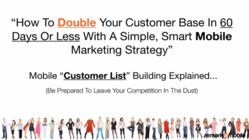 In today's economy, companies simply can't afford to ignore the direction consumers are going. Not giving SMS text marketing the attention it deserves might be the very element to decide who will struggle and who will thrive. Andrew Cass
MIAMI, FL (PRWEB) November 30, 2012
RemarkaMobile, a company that specializes in mobile marketing strategies such as SMS text marketing and mobile customer list building, announced the launch of a new program, which will allow businesses to capitalize on the traditionally increased holiday traffic, to significantly impact their revenue in 2013. The offering includes the opportunity to implement SMS text marketing and customer list building for seven days, at a $1 cost.
According to the National Retail Federation, for some retailers, the holiday season can represent anywhere between 20–40 percent of their total annual sales. In 2011, holiday sales represented 19.5 percent of total retail industry sales, and the NRF is projecting 2012 holiday sales to rise 4.1 percent from last year. "The holiday season can bring great opportunities and rewards to local small business owners, which can last longer than just a couple of months, if efficient systems are in place to help retain the new customers – that's the advantage mobile marketing strategies can provide, fast," said Andrew Cass, co-founder of RemarkaMobile.
Andrew Cass and Michael Force, the other co-founder of RemarkaMobile, have released a video that explains the many benefits of using mobile marketing tools for small businesses, which is available online at http://www.remarkamobile.com/pricing/sms-text/. Cass says that "in today's economy, companies simply can't afford to ignore the direction consumers are going. " He then continued, saying "not giving SMS text marketing the attention it deserves might be the very element to decide who will struggle and who will thrive in the upcoming years".
Cass and Force decided RemarkaMobile would be the first mobile marketing service to offer, for just a dollar, full access to a state-of-the-art mobile platform. Companies now get to experience having their own SMS text marketing system for seven days, which the two mobile marketing experts believe is enough time to realize how crucial those tactics are to achieving success.
Other mobile marketing strategies such as QR codes, mobile apps, and mobile commerce websites are also suggested by RemarkaMobile to be implemented immediately. Those are not only new and additional sales tools, but they assist with building a strong mobile database that will serve as basis for SMS text marketing. In fact, a recent study by IDC Retail Insights observed that 70 percent of shoppers planning to showroom this season—that is, use their smartphones to compare prices and research products—say they will be more likely to buy from retailers that offer mobile commerce web sites, support smartphone shopping apps, or offer price comparisons via QR codes.
"Failing to implement mobile marketing strategies and transition to m-commerce will cause businesses to fall further behind, just like it previously happened with e-commerce," notes Force. "RemarkaMobile's current offer is the perfect opportunity to launch an m-commerce system that targets today's technology-savvy consumers." More information about RemarkaMobile's services can be found at http://www.RemarkaMobile.com.
About RemarkaMobile
RemarkaMobile is a group of highly trained certified mobile marketing advisors who specialize in developing and implementing mobile marketing strategies, from SMS Text Marketing and mobile customer list building, to mobile app development and mobile website optimization. More details are available at http://www.RemarkaMobile.com.