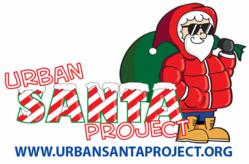 New York, NY (PRWEB) November 30, 2012
Urban Santa Project is a Christmas charity event that works with about 20 charities from New York, New Jersey, and other regions to deliver personalized gifts to children. This year's event will also involve the launch of a unique reading club that is coordinated by "Santa". Each child in the program will be given age appropriate books and encouraged to write to "Santa" throughout the year using postcards. When the team receives postcards, they mail new books to the child and encourage them read more. The goal of the project is to promote literacy through positive feedback from children's celebrity, Santa Clause.
Urban Santa Project is funded from the generous donations coming from different individuals. Donated funds are being used for books, wrapping materials, shipping costs, travel expenses as well as Santa and elf uniforms.
Urban Santa Project is being organized by medical students from New York City. The event will happen during the week of Christmas and will involve the teams hand delivering gifts to each child. In order to make the project a success this year, it needs 5,000 children's books and 1000 toys. Everyone can help Santa in getting these books by means of organizing a book drive in schools, community, workplace and even apartment complex. It provides assistance in getting started as well arrange for pickup.
This is a one of a kind project that will give any children smile on their lips. The project coordinators of the event are expecting that there will be so many people that will donate and volunteer for the event in order to help the children and urban youth. Everyone can donate, volunteer and even organize a book drive. Urban Santa Project assures that all the donations will not be wasted.
Everyone is invited to view a short Christmas movie on the organization's website that explains the program. Individuals interesting in helping out can also sign up to be on a team to support a charity in their community.
One of the project coordinator, Neha Rana said "We need a lot of help this year. New York and New Jersey are still recovering from the effects of Hurricane Sandy. We want this year's Urban Santa Project to be extra special for the children from these areas."
###
In order to know more information about how people can help for the project as well as how they can donate, kindly visit their website at http://www.urbansantaproject.org/.
Urban Humanitarian Projects (UHP) is a student-run non-profit 501(c)3 charitable organization founded by St. George's University medical students (Grenada, West Indies) completing their medical training in New York City. UHP's mission - to improve the education, healthcare, and quality of life of the underprivileged – is supported by working with established charities throughout the United States and abroad to make a positive impact in the lives of disadvantaged children and adults. UHP past projects include the annual Urban Santa Project - Christmas day gift delivery, GURUS High School Mentorship Project, and a semi-annual video game tournament fundraiser event which raised over $100,000 for humanitarian projects worldwide. The organization's tax-exempt fiscal sponsor, FJC, a foundation of philanthropic funds, allows start-up programs to utilize their services to accept donations and operate as a legal entity. FJC maintains the organization's financial records, assisting in donor relations and all legally-mandated monitoring and reporting. UHP is fully supported by St. George's University and its administration.