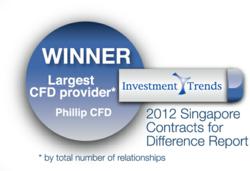 (PRWEB) November 30, 2012
With the findings of the Investment Trends 2012 Singapore Contracts for Difference (CFD) report, Phillip Securities is pleased to announce that Phillip CFD remains the largest CFD provider in Singapore for the third year running, with 41% of active traders having placed trades with Phillip CFD in the past 12 months. This is in spite of the decline in the number of new traders entering the market due to the introduction of the Customer Account Review (CAR) and Customer Knowledge Assessment (CKA) by the Monetary Authority of Singapore (MAS).
This is largely due to the fact that relative to the market, Phillip CFD is also more likely to be associated with the attributes 'financial stability', 'trustworthy' and 'approachable', which are what traders increasingly look for, as they choose their brokers based on their financial stability and security. We would like to thank Singapore traders for their vote of confidence.
In addition, Phillip CFD's commitment to education has been acknowledged as our customers have given us a higher satisfaction score than previous years. We strongly believe that through education traders can improve their skills, which spurs us into providing regular seminars and webinars on market outlooks and CFD strategies for new clients and experienced traders.
As the most recognised brand amongst all brokers who provide CFDs in Singapore, Phillip CFD is committed to providing an even better trading experience through our trading platform, educational programmes and our team of dedicated dealers and remisiers.