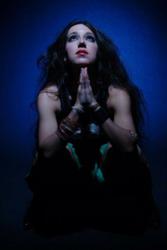 Step inside the world of Vajra - a melodious vocal wonderland with hints of Eastern Indian themes.
New York, New York (PRWEB) November 30, 2012
Vajra teams up with filmmaker Jordan Stone to release the preliminary video for the Burning Edit version of their single "Inside The Flame". The video is part of Vajra's live multimedia show and was a concept conjured and executed by Stone.
The band recently released their debut album "Pleroma" to sizzling reviews.
Kyle Jarmon of Examiner Webzine, states "[s]tep inside the world of Vajra - a melodious vocal wonderland with hints of Eastern Indian themes. Formed by composer, singer & multi-instrumentalist, Annamaria Pinna, Vajra's debut composition, Pleroma, is a opaque music paradise."
According to Sara Letourneau of Sonic Cathedral Magazine, "if you'd like to lose yourself in arock-induced hypnosis, let Pleroma be your invitation." Referring to "Inside The Flame", Letourneau writes, "[t]his incantation epitomizes Vajra's sound with smoldering arrangements, chanted refrains, and layered rhythms. The lyrics hint at the seduction and danger of the enigmatic: "Pray for your existence / Keep your distance / Meet you inside that flame." It's as though Pinna's inviting you to fully experience Pleroma while warning you of its enchantment.
Trystan MacDonald of Lithium Magazine writes, "I instantly fell in love with this release. There are just some albums that send a chill up your spine and Vajra's debut Pleroma has achieved this effect. The band is the mind project of composer/vocalist Annamaria Pinna, who formed the concept following her return to New York after a self-imposed exile in India. Clearly the experience had a profound effect as Pleroma stands to be an audio gospel of spiritual harmony."
Vajra is quickly generating a buzz after selling-out their first show in November, 2011 (at The Bowery Electric in NYC). Virgin America selected Vajra's single "Erode The Will" for their In-Flight Entertainment Series in December, 2011, and the single was also selected for the Red Gorilla SXSW 2012 Compilation and the Go-Girls Music Fest 2012 Compilation. The Band also was selected as a Supercuts Rock The Cut Ambassador. Vajra's music is played at over 200 terrestrial and internet radio stations worldwide. The band has played to sold-out audiences at: The Bowery Ballroom (NYC), The Mercury Lounge (NYC), The Bowery Electric (NYC) and also performed 2 shows at The RedGorilla Music Fest and the Texas Rockfest at SXSW 2012 and completed a successful West Coast tour performing at Sylvia Massy's 4&20 Blackbird Music Festival, The Bottom of the Hill in San Francisco and The Roxy in Los Angeles. Vajra also just signed licensing deals with The Discovery Network, MTV, Showtime and Bravo.
Stone's work has been presented at the Independent Film Festival in Lima, Mono No Aware, Light Industry, Harvest Works, Brik Gallery, and has been included in several touring Micro Cinema's including Deep Leap and The Speculative Frontier. He also composed music for Messhof Games projects that were exhibited internationally and in the U.S. Jordan's work addresses alienation, drugs, death and transcendence. He works primarily with hand processed and hand painted 16mm film. His work is a perfect accompaniment to Vajra's dark lullabies.
Vajra and Stone are currently working on an entirely new concept for album version of "Inside The Flame", which is scheduled to start filming in December.
You can watch the video here: http://www.youtube.com/watch?v=43x9hlRjPcU
Vajra's Facebook page is: http://www.facebook.com/vajratemple