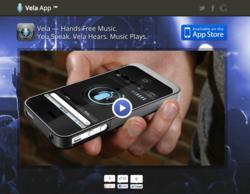 Aliso Viejo, California (PRWEB) November 30, 2012
Vela Player is the first voice-activated app for on demand music and depending upon device it can be 400 times faster at finding music than traditional music search on an app. What' truly useful about Vela Player is that fact that it completely eliminates the need for typing. It is entirely voice-controlled and button push to navigate to any artist, album, or customized station.
So what you end up with is a really easy and fast way to navigate large databases of music which is a great enabler for the all you can eat music services like Spotify that have millions and millions of songs. Automotive integrations of this app could have a profound effect on the safe accessibility of on demand music in the car. Currently the only way to access this type of music in the car is through a process similar to texting, which is not a safe activity while driving.
Vela has also incorporated a host of new features, which includes quickly being able to sort an artist top songs, their entire album, or play similar artists stations, and now save music into playlists. Spotify, Rhapsody, and Rdio customers are in for a treat with this free app for iPhone that makes music search very easy and very fast.
Vela Apps patent pending voice recognition software approach power the apps ability to find music so quickly and accurately. The technology has been shared across the three largest music services in the industry to meet the needs of music lovers no matter which service they use.
The company has larger plans on the horizon, with even more Siri-like features to come. They have a Kickstarter campaign currently running to gain funds from backers to carry out their vision of making the "Siri-like" app for music. The money raised will be sunk into heavy coding work to make app better by integrating more controls by voice and making it even easier to request customized playlist to fit the users exact music desire of the moment.
The new features will lessen even further the distraction to drivers making it a product that's as easy to use as the traditional stereos head unit, but with tons of more music flexibility for the driver. The founders have said, they already have the new app designed, and are just looking for support on Kickstarter to pay their programmers to implement the work and still keep the app free for everyone. See more at kickstarter.com, the Vela music project.