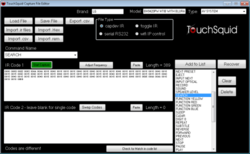 This infrared capture system empowers professional integrators with an on-the-go system and allows them to travel from one job site to another with this easy to carry toolkit.
North Vancouver, BC (PRWEB) November 30, 2012
Touchsquid IR Code Capture Tool kit is a PC-based software application combined with an IR Blaster/Receiver designed for Professional home theater installers or integrators. This black box transceiver device has an advanced infrared detection circuit ensuring accurate code capture.. This provides the Home theater integrator a portable and self-contained set up that allows the capture, editing, transferring and saving of IR Codes in Pronto Hex formats for home theater devices.
Technological innovations such as tablets with built-in IR allow for the integration of different remotes into one single one using a library of IR codes. While database collections of regular and discrete infrared remote control codes in Pronto hex format are readily available for most of the new entertainment and home automation devices, older models from 15 years ago are not so common, and may require IR codes to be captured from existing remotes.
Touchsquid IR Code Capture Toolkit is designed for easy setup. No Wi-Fi or network connection is required. The code capture process is automated so that the press of a button on the remote captures the code into the editing box. A command name is added from a predefined list or type, and then added to the codeset. These codes are easy to export, email or transfer through a USB cable.
By default the app saves codes in Touchsquid capdev format but it can export in CSV format for use by other devices.
About Touchsquid Technology Inc.
TouchSquid Technology Inc. is located in North Vancouver, BC, Canada. Its flagship product is the TouchSquid all-in-one infrared tv remote control. The company has also developed a number of Android Apps, the most notable being the TouchSquid Remote Control App, for use with generic tablets in combination with an external IR blaster device. Other apps include the Media PC Keyboard/Mouse which integrates neatly with the TouchSquid remote control apps, both Home and PRO versions.