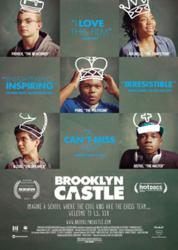 This is the human spirit triumphing over all sorts of adversities...it's something that Brooklynites and all New Yorkers can be proud of
Brooklyn, NY (PRWEB) November 30, 2012
Brooklyn real estate attorney Robert Howe - host of weekly small business online radio show Howe's New York -welcomed producer/director Katie Dellamaggiore to his show Thursday night. Mrs. Dellamaggiore appeared on the show to talk about her new film, the chess documentary BROOKLYN CASTLE.
The native Brooklynite from Sheepshead Bay described what the response was to the story after debuting a New York story in the unlikely location of Texas:
"People got it. They got it in a way that...they didn't have to be New Yorkers to get the story and that meant the story was universal," said BROOKLYN CASTLE Director Katie Dellamaggiore.
"That meant a lot to us. That it just wasn't a New York story [that] it's a story of kids doing great things and overcoming obstacles..."
BROOKLYN CASTLE tells the stories of five members of the chess team at a below-the-poverty-line inner city junior high school that has won more national championships than any other in the country. The film follows the challenges these kids face in their personal lives as well as on the chessboard, and is as much about the sting of their losses as it is about the anticipation of their victories
"This is the human spirit triumphing over all sorts of adversities...it's something that Brooklynites and all New Yorkers can be proud of," said Robert Howe.
The film, which premiered at the South by Southwest (SXSW) film festival in Texas has garnered numerous awards already, including Winner of the Audience Award at both the SXSW 2012 Film Documentary Spotlight and Newport Beach Film Festival 2012 as well as Best New Director Award at Brooklyn Film Festival 2012.
After appearing in over 20 film festivals it recently opened in theaters across the country and is playing for a limited time at New York's Lincoln Center.
BROOKLYN CASTLE can be found online at brooklyncastle.com and on Facebook, Twitter, and YouTube and is playing for a limited time at Lincoln Center as well as in Austin, TX, Charlottesville, VA, San Francisco, CA, Philadelphia, PA, and St. Louis, MO. Media inquiries can be directed to Adam Segal at (202) 422-4673 and Nancy Willen at (310) 963-3433.
The Law Offices of Robert Howe - serving New York for over 31 years - are located at 251 86 Street in Brooklyn, NY 11209 and his offices can be reached at (718) 748-9700. Robert Howe can also be found on Facebook and Twitter @RobertHowePC.