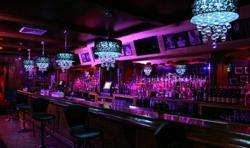 Eden's Lounge is one of the venues Baltimore can be proud of...
Baltimore, MD (PRWEB) November 30, 2012
The Baltimore Sun has named Eden's Lounge as one of Baltimore's top bars, lounges, & dance clubs. Eden's Lounge is one of the few lounges named in the list plays R&B, Hip Hop, & Soul. Eden's Lounge has remained successful in Baltimore Nightlife over the years due to a strict dress code, great ownership and staff, great happy hours, very tasty appetizers and entrees, constantly updating the interior décor, working with only the best promoters, being located in the multicultural district of Mt. Vernon in Midtown Baltimore, and simply having fantastic customers.
Baltimore is much more known for its bars and taverns, especially in Fells Point, Federal Hill, Canton, Charles Village, etc. Eden's Lounge is located in Midtown Baltimore, the multicultural Arts District and Neighborhood of Mt. Vernon. Eden's Lounge has worked very hard to maintain a professional clientele, which is difficult to do with Washington D.C. being so close. Baltimore loses half of its urban professionals to Washington D.C. nightlife almost every night. A lot of it has to do with lack of variety sexy lounges and nightclubs in Baltimore.
Eden's Lounge has been working over the years to maintain its sexy metropolitan lounge vibe. Customers know they can come to Eden's Lounge to get some fantastic cocktails, great entrees, and dance the night away to some great dance tunes. "We feel that Eden's Lounge is one of the venues that Baltimore can be proud of when talking about Baltimore Nightlife," says owner Helen Metaferia. Visitors and locals alike know they can depend on Eden's Lounge for a good time.
Eden's Lounge ownership feels their competition is more DC than other venues in Baltimore. Baltimore and Washington DC share some of the same suburbs. Some urban professionals in Baltimore's southern suburbs may prefer to party in DC because Washington DC nightclubs stay open later, DC is a tourist city, DC boasts one of the best economies in the country, and there is a huge influx young professionals moving to Washington DC. All of the aforementioned has greatly improved Washington DC as a whole, as well as it's nightlife. Washington DC was once the nation's murder capital.
Baltimore is quietly improving as well. A new concert venue that is NBA and NHL ready is in the works; Harrah's Casino is in the works. Harbor East is booming with new restaurants, lounges, hotels, boutiques, and more. Mt. Vernon is home to Baltimore Symphony Orchestra venues, several thriving universities, boutiques, Penn Station, several Arts Districts, etc. Mt. Vernon has also become known as the neighborhood with the sexy, mature, and artsy lounges, bars, and restaurants. Mt. Vernon is also home to the some of the best LGBT bars and lounges. Mt. Vernon is also home to some of the best restaurants in Baltimore.
While Baltimore is know more for it's bars, taverns, and pubs, Eden's Lounge is definitely a lounge with class one can go for some fantastic dance music, cocktails, appetizers, entrees, and atmosphere.
Eden's Lounge
Located in the heart of Mt. Vernon, Midtown Baltimore, Eden's Lounge has been leading Baltimore nightlife for over seven years. Eden's Lounge boasts very tasty appetizers and entrees, including Ethiopian entrees. Eden's Lounge has also become known for it's happy hours and nightlife. Attracting diners and party goers from all over the world, Eden's Lounge has become internationally known as the place to be if you are looking for good food, cocktails, and entertainment.
# # #
If you'd like more information about this topic, contact Harold Edwards at he (at) edenslounge (dot) com or go to http://www.edenslounge.com