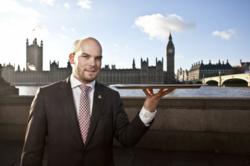 Glion is leading the way in providing students with a unique global education experience
London (PRWEB) November 30, 2012
Glion Institute of Higher Education, one of the world's top three institutions of higher education for an international career in hospitality management, announced today that it is opening its first branch campus in London. The new campus expands the reach of Glion's Swiss hospitality education programmes to students and industry leaders in the U.K. Glion is a member of Laureate International Universities, a global network of more than 60 accredited campus-based and online institutions of higher education serving more than 740,000 students in 29 countries.
Glion offers management programmes in hospitality, events, sports, tourism and entertainment and has close ties with employers in these rapidly growing global industries. Hospitality is one of the world's fastest-growing and most dynamic fields of employment, and Glion is highly regarded by key industry brands worldwide. More than 90% of Glion graduates are employed in the industry within 6 months of earning their degree. With almost 10,000 graduates working in more than 100 countries, Glion's alumni form a strong executive search and placement service, facilitating the integration of new graduates into the professional world and matching job offers with employment demands.
Glion London will initially offer a Bachelor of Business Administration in Hospitality Management and a Postgraduate Diploma in Hospitality Administration beginning in August 2013. Glion London will be located on the campus of the University of Roehampton in southwest London, providing students with access to the facilities and resources of a large university community. The University of Roehampton, London, has an existing partnership agreement with Laureate Education, Inc. for the delivery of its online programs.
"Glion is leading the way in providing students with a unique global education experience," said Douglas L. Becker, chairman and chief executive officer of Laureate Education, Inc. "London is an important gateway for our hospitality management students. It is one of the world's leading centres for business, finance and hospitality, and it is a desired English-language destination for students who want to earn their degree from Glion. We are delighted that this new Glion campus has been made possible through our partnership with the University of Roehampton, London. It highlights the benefits of the collaboration that takes place among institutions that are associated with the Laureate International Universities network."
The expansion of Glion to London allows students worldwide to define their own pathway for earning a Swiss hospitality management degree through study at campus locations in Switzerland, the United States or the U.K. In addition to being able to choose where to study, students can also choose to study online, part time or full time. Glion London students will also be part of a real-time global classroom that connects students-to-students and students-to-faculty at all Glion campuses, fostering true international education collaboration.
For more information on Glion Institute of Higher Education and how to apply to Glion London, please visit http://www.glion.edu.
Press contact: Alexia Robinet
Public Relations Manager
Phone: +41 (0)79-3108193
Alexia(dot)robinet(at)laureate(dot)ch
About Glion Institute of Higher Education
Glion Institute of Higher Education is a private Swiss institute that offers undergraduate, graduate and post-graduate programmes. Glion is accredited at the university level by the New England Association of Schools and Colleges, Inc. (http://www.neasc.org) through its Commission on Institutions of Higher Education, and offers programmes in the fields of hospitality, tourism, events, sports and entertainment management. The campus-based student body comprises more than 1,600 students representing more than 90 nationalities. There are 85 faculty members including full- and part-time equivalent lecturers as well as visiting lecturers. For more information, please visit http://www.glion.edu. Glion is part of Laureate Hospitality Education,a leading hospitality management education group (http://www.laureatehospitality.com)
About Laureate International Universities
Laureate International Universities is a trusted global leader in providing access to high-quality, innovative institutions of higher education. The Laureate International Universities network includes more than 60 accredited campus-based and online universities. Our more than 740,000 students are part of an academic community that spans 29 countries throughout North America, Latin America, Europe, North Africa, Asia and the Middle East. Laureate universities offer hundreds of undergraduate, master's and doctoral degree programs in fields including architecture, art, business, culinary arts, design, education, engineering, health sciences, hospitality management, information technology, law and medicine. President William J. Clinton, 42nd President of the United States, serves as The Honorary Chancellor of the Laureate International Universities network, offering advice on social responsibility, youth leadership and increasing access to higher education. For more information, visit http://www.laureate.net.