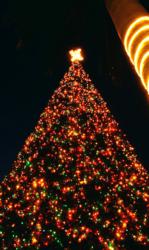 "Tis our Season Night & Day Downtown Delray Beach," is a culmination of fabulous shopping, dining and festivities that this Village by the Sea has to offer during the holiday.
Delray Beach, Florida (PRWEB) November 30, 2012
Delray Beach Downtown Development Authority (DDA) and the businesses in Delray Beach invites visitors downtown this December to experience "Tis our Season Night & Day Downtown Delray Beach," a culmination of fabulous shopping, dining and festivities that this Village by the Sea has to offer during the holiday.
This December, the DDA has worked with many of the retail and restaurant businesses to create promotions for all to take advantage of this Holiday Season. From fabulous discounts at the fashion boutiques, specials at local spas, in-store parties, book signings, and more you are sure to have a cheerful time here in Downtown. For all the listings be sure to click on http://www.downtowndelraybeach.com/promotions.
There are many exciting Holiday Events taking place this December for example the 100 ft. Christmas Tree open daily beginning Nov. 30, the Holiday Boat Parade on Dec. 7 benefiting Toys for Tots and the Holiday Parade on Atlantic Ave taking place on Dec. 8. This is a great time to enjoy an incredible holiday dinner in downtown and do a little shopping, as all the shops will be open. Also on Dec. 20th Artists Alley host their Open Studio nights – great chance to get one of a kind holiday gifts.
Don't miss "Fabulous 3rd Friday" taking place on December 21, 2012 from 5pm – 9pm. This night the shops, galleries, salons and restaurants open their doors and invite locals and visitors to enjoy a fun night in downtown. "This year the Gallery Walks have expanded to include all the businesses throughout downtown from A1A throughout Pineapple Grove," comments Marjorie Ferrer, Exec. Director of DDA. "This is an excellent opportunity for the visitors and residents to enjoy a beautiful South Florida holiday evening exploring great art, unique shops and experiencing fantastic dining!"
The DDA wants to provide the locals and visitors a cheerful experience this shopping season. This festive atmosphere with the 100ft Christmas tree at the Delray Beach Center for the Arts to a beautifully lit Sphere Christmas tree illuminating A1A will make you feel like celebrating. The streets are lined with twinkle lights and bright starfish; the storefronts are decorated while the warm tropical breezes fill the air. Where else would people want to be this Holiday both Night and Day but Downtown Delray?
December Night & Day program is sponsored by the Legacy Sponsors: Waste Management, The Office Depot Foundation, Howard Alan Events, WPTV, and the month's sponsors, Vic & Angelo's and The Office. We appreciate their continued support and contributions to Downtown Delray Beach.
About the Downtown Development Authority: For the past 41 years, the Downtown Development Authority has assisted in successfully branding Delray Beach as the Village by the Sea. The Delray Beach DDA was created by Resolution 9-71, which became law on March 22, 1971, as a dependent district of the City of Delray Beach. The DDA Mission is to enhance and stimulate balanced economic growth through position marketing activities that engage Downtown businesses, residents and visitors while creating a clean, safe, physical and experiential place to live, work and invest. The main areas of involvement in downtown redevelopment include: Marketing and Promotions; Economic development programs; Place Making within the DDA boundaries. The DDA also works closely with merchants to develop seasonal retail awareness campaigns to generate traffic and sales and has created a powerful website http://www.downtowndelraybeach.com and facebook.com/delraydda site that attracts thousands of visits weekly.