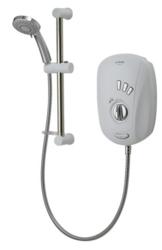 We designed this Replace an Old Model webpage to help our customers find the answer they need, quickly and easily on our website.
(PRWEB UK) 30 November 2012
With the guests comes extra toll on household appliances, including bathroom showers, and the additional strain can cause problems in some circumstances. Older electric showers can often struggle to perform in the colder weather as they have to work much harder to heat water to the desired temperature, and additional use from guests can cause more serious problems, and even breakdowns. So, don't wait until it's too late, upgrade your shower today in time for guests and their showering needs.
On the Gainsborough website, there are over thirty-five shower models, including electric, mixer and digital showers, and prices start from just £61.99. Any customers looking to replace an old Gainsborough shower can find exactly what they're looking for on the replacement shower webpage. This page lists the suitable retro-fit showers for obsolete models, with a handy link through to each product, all of which are available to buy online with free delivery. In addition, there is helpful advice about replacing electric showers and what can be involved in reducing or increasing the kilowatt rating. So, from the 8.5E electric shower to the Gainsborough Senator mixer shower, retro models that have come to the end of their lives can be replaced with a brand new shower. As a further benefit, all of Gainsborough's showers come with a free guarantee for extra peace of mind.
Katerina Vankova, Gainsborough's Web Marketing Manager says:
"We have found that many of the calls to our customer service department were simple queries asking which models were suitable to replace an old model. We designed this Replace an Old Model webpage to help our customers find the answer they need, quickly and easily on our website. Adding a link through to the suitable product page makes it easier than ever to buy a replacement shower".
The new GSX electric shower range, for example, would complement any style of bathroom, with its stylish white and chrome finishes. Prices for the range currently start at £89.99 for the entry-level GSX 8.5, a fantastic choice for any budget-conscious buyers. The mid-range GSX Plus 8.5 is an ideal choice for families, with its additional safety features, and is currently available for £119.99. Finally, the top of the range GSX Deluxe 8.5 is the ultimate in luxury. With advanced features and an intelligent LCD display, the GSX Deluxe is currently priced at £139.99.
Company background
With over 40 years' experience in the UK domestic shower market, Gainsborough Showers offers a range of high quality and reliable electric, mixer and digital showers at affordable prices. The company's mission is to make buying showers and spare parts online quick and easy. The company prides itself on excellent customer service, offering free delivery on all showers and spare parts, as well as expert advice from a UK based customer service department.