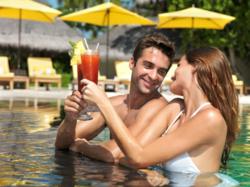 ItalianView.com can help anyone make the perfect holiday choice, whether it is a dynamic city break, a well deserved rest by the sea or a romantic hideaway in the evergreen
Sheffield, South Yorkshire (PRWEB) November 30, 2012
For many people, the honeymoon is the most memorable part of getting married. Now, UK based Italian holiday rental company Italian View which features Villa rentals in Italy, especially villas in Tuscany,Umbria and the Amalfi Coast is offering a new service to create an unforgettable honeymoon, tailored uniquely to you.
"Our 'Catch a Falling Star' option is a completely original service, specifically geared towards honeymooners." said Peter Walsh, manager of Italian View, "After throwing everything into organising the wedding, many people haven't got the faintest idea, the time, or frankly the energy to start planning their honeymoon. This is where Italian View comes into the equation."
Walsh explained that with the new service, honeymooners can choose what they want and then sit back, relax, and the ItalianView.com staff will do the rest.
The company manager stated that when it comes to surprising your significant other, ItalianView.com has a variety of services to choose from. "Memories are made by special and surprising moments: Wine and dine by candlelight by the pool whilst experiencing an Italian serenata," Walsh proposed, "or ride by moonlight in a horse drawn carriage sipping champagne, before wowing your loved one with a specially written sonnet."
"What makes ItalianView.com different from everything else on the market today", Walsh stressed, "is that opposed to larger holiday companies, we have the flexibility to meet almost any kind of special request, and are proud to help customers create their perfect tailor made villa holiday."
Walsh promised that with its knowledge and expertise, ItalianView.com can help anyone make the perfect holiday choice. He states, "Whether it is a dynamic city break, a well deserved rest by the sea or a romantic hideaway in the evergreen, Umbria countryside, the ideal, Italian holiday is just a click away."
For more information, please visit: http://www.italianview.com/
About Italian View
With over 15 years experience in holiday rentals, the company has gained experience and knowledge of Italian properties which assures it can guarantee the quality and standards customers expect.
All its villas and apartments are carefully selected and are inspected frequently. The company was formed in 1998 after many years of experience in the holiday field. Having lived in Italy for many years, the company staff's knowledge of the language and culture has enabled the company to establish a friendly relationship with property owners.
Italian View has a professional but informal approach and realises the importance of a long-awaited holiday to each customer with individual requirements and preferences.
Search for Italian View on Google: http://www.google.com/search?q=Italian+View