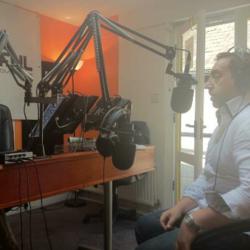 Don't take away the personality in your CV. The automated search is just the first step - your CV still has to go in front of a person
London, UK (PRWEB UK) 30 November 2012
Superstars founder Steve Hutson continues his regular appearances on Colourful Radio's Life With Juicy Jaxx. This week, Jaxx asked Steve about a recent BBC article that offers advice to job seekers to try and beat automated staffing systems. The BBC surveyed 20 of the country's biggest employers and found that 18 were using some form of artificial intelligence or automated system to find keywords in CVs and select the first round of candidates based on a software algorithm.
"You can spend time putting a CV together and a person never gets to look at it," said Hutson, "This goes against everything that we believe in about hiring people for jobs. It's not pieces of paper for jobs."
"I think the future lies in creating centres of excellence of people assessing people," he continued. "I think that is where the money should be invested."
By putting the emphasis on keywords, Steve explained, a candidate's personality never gets the chance to shine through.
"If we say 'management executive' seven times in your CV you are more likely to get to the top of the CV pile. That's not very literate and it doesn't show your personality. This is not the way forward."
If companies insist on using these methods, Steve recommends trying to use them to your advantage but always being conscious that they are only the first step. ""To make it work for you, look at the company itself. What language are they using in ads and job specs? Then just make sure your language - which is still personal - takes on board a few of the keywords they are using. Don't take away the personality in your CV. The automated search is just the first step - your CV still has to go in front of a person."
As companies learn the limitations of automated selection, Steve predicts the technique will be relied on less and less. ""I think that in the next three years things will change," he told Jaxx.
"At Superstars, we give you a system that allows employers to go online and see people and who those people are. Do not forget we are dealing with people and it is people that will add value to your business, not a scanning device."
Steve Hutson will be back on Life with Juicy Jaxx on 11 December to talk more about the world of employment and to launch the new iStar app from Superstars. You can listen live via the Colourful website [http://www.colourfulradio.com/presenter/juicyjaxx/ or catch up with Steve's previous appearances on the Superstars You-Tube channel [http://www.youtube.com/user/homeofsuperstar .
Superstars is based on a unique new staffing model that eliminates fees and margins forever. Clients work with Talent Managers to get the best staff for their needs and the Talent get amazing opportunities and the best support and mentoring in the industry.
Superstars' clients include BSkyB, Orange, Infosys and Radical Company with more being added all the time. To find out more about Superstars' unique staffing model and how it can transform the way you hire staff, contact Steve Hutson - steve@homeofsuperstars.com or visit http://www.homeofsuperstars.com