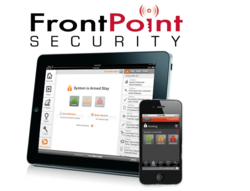 ...FrontPoint is the only home security company to get a full 5-star rating from Yelp...
Chicago, IL (PRWEB) November 30, 2012
One of the leading reviewers of security systems, HomeSecuritySytemsHQ, has chosen FrontPoint Security as the "best" home security company of the past 10 years, based on their recent review of home security consumer reports. HomeSecuritySystems HQ also considers FrontPoint Security as the home security company with the most reliable and efficient system. The reasons for such accolades are the areas in which FrontPoint leads the competition.
CUSTOMER SERVICE
FrontPoint Security leads the industry in customer service. In 2010, the company achieved the impressive Angie's List Super Service Award in acknowledgement of their exceptional customer service. FrontPoint's customer support department is highly sensitive and responsive to customer calls and inquiries. The staff is well-informed and helpful, trying to resolve any issue as efficiently as possible.
ONLINE REVIEWS
FrontPoint is the only home security company to get a full 5-star rating from Yelp, one of the most stringent customer review sites online. FrontPoint customers are extremely pleased with the products they get and the service they receive. This overall satisfaction from the people served is the primary reason that FrontPoint has an "A" grade with the BBB (Better Business Bureau).
CELLULAR MONITORING & WIRELESS EQUIPMENT
FrontPoint Security customers get the best available. Top of the line cellular monitoring provided by Alarm.com and superior wireless equipment from GE Security can be expected as part of any product package. Customers can easily monitor security of their homes from cellular and smartphones, whether it is activating or deactivating the security system, receiving text alerts, or watching live videos of their property.
30 DAY TRIAL
All customers are provided a 30-day money back guarantee on whatever is purchased. Great customer service and top quality products are the reasons why this offer is not used that often!
FREE ENVIRONMENTA L MONITORING
Worries about fire, smoke, carbon monoxide or flooding are reduced with the professional environmental monitoring offered by FrontPoint Security. This service is free of charge.
SHIPPING BY FEDEX
FrontPoint ships the product free of charge on the same day it is ordered. An expedited option is also available.
SMASH & CRASH TECHNOLOGY
The Simon XT is the GE Security control panel for FrontPoint and it has a patented technology called Smash & Crash. This protects any burglary by sending an immediate alarm to law enforcement agencies and monitoring stations if there is an attempt to damage the control panel during a break-in.
CONTACT
Interested parties or individuals can obtain an instant quote from FrontPoint right here. They can also be reached at (866) 363 2035.