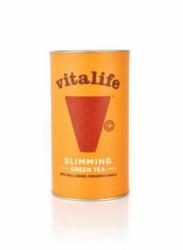 It works by making fat cells become available for use as energy in the human body
Rotherham, South Yorkshire (PRWEB UK) 30 November 2012
Vitalife, a South Yorkshire based specialist tea company, have produced a green tea that is designed to help people lose weight.
But far from being a traditional cup of green tea, Vitalife have also blended fiery chilli, stimulating ginger, soothing vanilla and cinnamon, and a touch of Inositol (a B-Vitamin that is said to help make fat cells available for use as energy in the body) into their brew - creating a cup of tea that is designed to boost the metabolism and assist weight loss.
'The real unique spin on this blend is the Inositol' explained Gavin Edley, 25, the Managing Director of Vitalife, 'there are other slimming tea blends out there, but none have incorporated this powdered supplement into their blends. It works by making fat cells become available for use as energy in the human body - helping to enhance the slimming effects of the other natural ingredients in the tea'.
According to research firm Mintel, green tea sales have grown 83% in the past two years alone, as more people get a taste for 'specialist' teas with reported health benefits.
Vitalife capitalised on this market growth with the introduction of a range of powdered green tea called 'matcha' in 2010, and have since expanded their range of specialist teas.
They developed the concept for their 'slimming tea', alongside a range of other benefit-led teas such as calming and energising blends, and their full range is now available in over 100 independent health stores nationwide and also online via their website.
For more information on their slimming tea, and other blends, visit http://www.vitalifeteas.com.