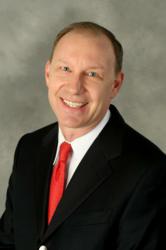 Falls Church, VA (PRWEB) November 30, 2012
Dr. William V. Dougherty, III treats patients suffering from gum disease with the new Laser Assisted New Attachment Procedure. This advanced protocol is FDA cleared for use in dental procedures. The highly sophisticated PerioLase MVP-7 laser provides Dr. Dougherty with the necessary tool to remove diseased tissue and bacteria without causing harm to healthy tissue, teeth or bone. It is a minimally invasive procedure that generally causes very little discomfort and requires a shorter recovery period than traditional periodontal disease treatment.
The basic procedure begins with the dentist probing the areas between the teeth and gums, or periodontal pockets, to determine depth so that the laser can be properly set. Next, the laser is used to disintegrate the bacteria and remove unhealthy gum tissue. The calculus or tartar deposits that have been left on the teeth below the gum line can then be removed with ultrasonic scalers. The laser is again used to promote clotting so that the remaining gums will seal against the teeth roots. The gums are also compacted against the teeth so that no sutures are required. The laser stimulates regeneration in the bone, which will strengthen the teeth.
Traditional periodontal disease treatment methods require a scalpel to cut away the diseased tissue, which means that some healthy tissue is nearly always removed or that unhealthy tissue is left behind. The LANAP treatment can remove up to 90 percent of the diseased tissue and bacteria in a single treatment. Because it is minimally invasive, a patient can usually recover much faster from this procedure than from the traditional methods of treating gum disease.
Gum disease is reaching epidemic proportions in this country among adults. Even more shocking is the fact that the majority of those suffering from the problem do not go in for treatment. Whether it is because they are afraid of the pain caused by traditional treatment methods or they don't feel they can take the time away from work for recovery from surgery, they are putting themselves at risk. With the new LANAP periodontal disease treatment procedure, very little discomfort is generally felt and the downtime is greatly reduced. More information about periodontal disease and the LANAP procedure can be found at http://www.doughertylaserdentistry.com.
William V. Dougherty, III, DDS, is a general dentist offering patients personalized dental care for Falls Church, VA. He is part of one percent of dental professionals providing the most recent FDA cleared laser procedure for gum disease and periodontal treatment. To learn more about William V. Dougherty, III, DDS and his dental services visit his website at http://www.doughertylaserdentistry.com.