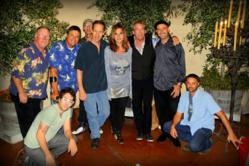 Napa, CA (PRWEB) November 30, 2012
The Sons of Champlin, led by Bill Champlin, former member of the American iconic band "Chicago" are always musically evolving. The Sons started in Marin County in 1965 and have stayed true to their musical roots since then. The music of the band is R & B and rock based with lyrical content that connects the audience with the band. The reason for the longevity of the band playing together for all of these years become obvious within the first few notes of the first song and becomes clearer over the next couple of hours. While the band has revolved around Bill's singing and song writing, he distributes the spotlight throughout the performance to showcase the individual abilities of band mates. There is now a triple threat with the addition of Tamara Champlin and Will Champlin to the band.
As front man, Hammond organist, guitarist and lead singer, Bill Champlin was a member of "Chicago" (singer of 'Hard Habit to Break', 'Look Away' and 'I Don't Want to Live Without Your Love' to name a few). Bill is also a two time Grammy winning song writer of 'After the Love Is Gone' by Earth, Wind and Fire and 'Turn Your Love Around' by George Benson. Bill said this year of the band, "The Sons have been a band that seems to connect with its audience on so many levels, lyrically and musically, that it's (fun) to go to and either listen or dance or just to connect with friends who you know will be there. I've been involved in a lot of musical performance styles over the years but The Sons seem to affect the audience in a "we're all together" kind of way rather than a "dig what I can do" way. It's not that the music is simple, it isn't, or that it's performed differently than other bands, it just touches people on different levels. I've found myself drawn to The Sons for the "all together" feeling everyone comes away with." The Sons of Champlin boast a career that spans more than four decades with over 12 albums to their credit. They are much more than a heritage or nostalgia act and have garnered a solid fan base that has loved and followed them for years. Always musically growing and keeping the audience moving to the soulful, funky groove of their music The Sons are as vibrant as ever and look forward to seeing you.
Tickets for Sons of Champlin plus Tim Hockenberry Trio are $35. They are on sale now and can be purchased through the theatre website at http://www.uptowntheatrenapa.com, at Ticketmaster (http://www.ticketmaster.com) or at the theatre box office (please call 707.259.0123 ext. 6 for hours). To find out more, please visit http://www.uptowntheatrenapa.com.
The Uptown Theatre Napa is downtown's ultimate destination for live concerts. Nestled in the famed West End district, this stunningly restored art deco masterpiece showcases only the finest acts, featuring music, comedy and more. An historic landmark, the Uptown offers a phenomenal, intimate live show experience, with excellent site lines and world class sound and lighting. As concert venues go, this is the place to be. Every seat is a great seat so buy concert tickets now!