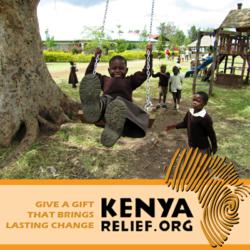 In Kenya, the need for medical care is overwhelming."
-Steve James, founder
Louisville, KY (PRWEB) November 30, 2012
DRE's partnership with Kenya Relief continues this holiday season with the exciting opportunity to donate specific medical devices or funds for independent projects. Now, medical professionals and donors can select devices from the Kenya Relief brochure to donate and it will arrive in Kenya shortly after Christmas for use by American teams working alongside Kenyan healthcare providers at Kenya Relief's surgery center and the new Kenya Relief Medical Center being constructed in 2013.
"In Kenya, the need for medical care is overwhelming," founder Steve James said. "Kenya Relief and its supporters have vowed to make a difference. Kenya Relief currently sends about 10 teams per year and each medical team has been able to see an average of 1,000 patients per team."
Many of the hospitals near Migori, Kenya have so few hospital beds that patients frequently share beds. The soiled bed linens are washed by hand, without gloves, in river water and hung on bushes and fences to dry. Your contribution could help improve these conditions.
Dr. Jon Robert, a pediatrician from Hot Springs, Ark. and volunteer said Kenya Relief has provided potable water to thousands, supplied relief for the hungry, maintained an orphanage caring for 116 children and built a state of the art medical clinic that not only enables general medicine and pediatric care, but now also contains cutting edge operating suites in which cataract, gynecologic, and general surgery cases are being performed.
These facilities, along with learning and spiritual growth opportunities, are making a significant impact in the community. Kenya Relief partners with local individuals, churches and organizations on the ground in Migori to ensure the work pays dividends now and for generations to come. A large focus goes into training and sustainability.
"Grateful adults who had long-suffered with broken, decayed and abscessed teeth finally received dental care. Surgeries were performed by flashlight with local anesthetic," pediatric nurse and volunteer Carolyn Koehler said. "Lives were saved with the administration of IV antibiotics and fluids."
DRE is proud to be part of a team of organizations to help make a difference and to insure the hospital is a success. With over 25 years medical industry experience, DRE will provide high quality affordable medical equipment, consulting, donations and supplies to meet the hospitals' needs.
"There is such an atmosphere of love and appreciation for the smallest acts of kindness you give. You think you go to be a blessing but you are blessed far more than you could ever dream," Pam Kuhl, a volunteer and RN from West Palm Beach, Fla. said. "We have so much; they have so little. What a privilege to help one person at a time make their life more manageable."
If you would like to donate time, effort, expertise or funding please contact (256)-531-2535 or visit KenyaRelief.org.
About DRE, Inc.:
DRE, Inc. is a premier medical and surgical equipment supplier that provides a combination of new and professionally refurbished or used medical equipment to industry professionals around the globe. DRE offers value to doctors by providing the features and reliability they need while still fitting within their budget.
About Kenya Relief:
Steve James started KenyaRelief.org in memory of his daughter in 2003. Brittney James sponsored Newton, a child in Migori, Kenya, and hoped to one day visit him. But Brittney died before she had a chance to meet Newton, and today Steve carries out her dream, convinced that one person can make a difference. After traveling to meet Newton, Steve James recognized the need for improved healthcare in the community and has made this his mission for nearly a decade.