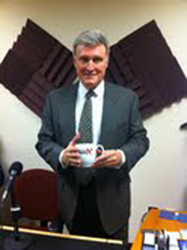 About 75% of middle management has been eliminated over the last twenty years.
Atlanta, GA (PRWEB) November 30, 2012
On November 29, 2012, co-hosts Lee Kantor and Stone Payton of BusinessRadioX®'s Atlanta Business Radio welcomed to the studio Emory Mulling, founder of Mulling Corporation, to discuss executive coaching.
Executive Coaching has become one of the most dominate methods of developing leaders in organizations of all sizes. Emory Mulling is a nationally recognized business leader in this area, having founded Mulling Corporation 26 years ago. He is currently serving on the Board of Governors for the Institute of Career Certification International (ICCI), the organization that determines the ethical standards for the Career Consulting Industry. Mulling is also a published author and highly sought after keynote speaker.
Mulling explained that his organization is in the business of "human capital services" - providing career transition services when someone is laid off from a job, as well as providing executive coaching to employees who have technical skills, but may lack interpersonal and communication skills.
According to Mulling, the Millennials and GenXers are not being developed as leaders. "About 75% of middle management has been eliminated over the last twenty years." Mulling says this lack of middle management in a corporation means there is no one to learn from. Younger employees are focused on work tasks and project management, but have no mentoring or apprenticeship opportunities.
Mulling Corporation is brought in by a company to help create a leadership path and grow workers who show "high-level" potential.
To learn more about Mulling Corporation's executive coaching program, tune in to this episode at Atlanta Business Radio.
About Stone Payton:
For over 24 years, Stone Payton has been helping organizations and the people who lead them drive their business strategies more effectively. He is a Managing Partner at BusinessRadioX® and the author of SPEED®: Never Fry Bacon In The Nude: And Other Lessons From The Quick & The Dead, and has dedicated his entire career to helping others produce better results in less time.
About Lee Kantor:
Lee Kantor has been involved in Internet radio, podcasting and blogging since he started the Dr. Fitness and the Fat Guy show in 2005. Since then, Lee has interviewed well over 1000 entrepreneurs, business owners, authors and celebrities on a variety of shows and at live events. In addition to his hosting duties, Lee is a Managing Partner at Business RadioX™ and is committed to helping entrepreneurs and business owners in Atlanta learn how to use radio to dramatically grow their businesses.
About Atlanta Business Radio:
http://www.atlantabusinessradio.businessradiox.com
Each week, from the BusinessRadioX® studio in Sandy Springs, Lee Kantor and Stone Payton interview Atlanta, Georgia's top businessmen and businesswomen to learn what makes them the best at what they do.
About BusinessRadioX®:
BusinessRadioX® provides a turnkey solution for business owners who want to leverage the power of internet radio to meet their best prospects, establish credibility for their organization and heighten the placement of their brand in search engines rankings. With a professional venue and a proven formula, BusinessRadioX® helps hosts podcast their shows and create a regular stream of dynamic content to share with their prospects and feed the search engines every week. Programs are recorded and streamed live to the internet from our studios in the greater Atlanta area. For more information or to hear a live show, visit: http://www.businessradiox.com.