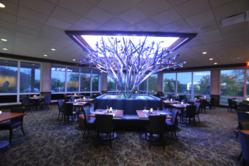 (PRWEB) November 30, 2012
Good things can come in smaller packages. It's an adage that has been recognized at nines, a new restaurant and sports bar open to the public inside the River Club of Mequon. A wide selection of wine flights, beer flights and small plates are available at the upscale sports bar and restaurant
Nines, located at 12400 North Ville du Parc Drive within Ozaukee County's premier private country club, is open to the public.
Small Plates – or larger ones.
Nines' panoramic and casually elegant dining room features a fresh twist on new American cuisine that can be served as a single entrée, or as part of nines' flight service. Choose a chef-composed trio of small plates like the Happy Family Flight, which includes seared Ahi tuna, crispy duck and buffalo short rib. Or personally select three of your favorites for a customized dinner.
"We've been thrilled with the public response to nines thus far, as well as the compliments from our members. The culinary creativity and the concept of our small plate 'flights' have been getting rave reviews," said Tom Weickardt, owner of nines. "And if you like, we can also serve any of our entrees as a single larger serving as well. People indeed appreciate the variety that our small plates concept offers, just as others really appreciate the versatility of enjoying a favorite dish as a larger entrée."
Wine Flights and Beer Flights
The nines' bar features 12 HD TVs and Wisconsin's largest Cruvinet, which offers 44 wines by the glass. Every Thursday from 7 – 10 p.m. nines hosts "Nights on the Nines," a live music series featuring an array of the Midwest's' most respected performers.
"Our atmosphere seems to grab your attention and stir the senses, from the enchantment of the dining room to our modern sports bar, which is a fantastic place to have a drink and some appetizers and catch the game. I want nines to be a destination on Sundays. Guests can enjoy a fantastic brunch, some great drink specials and the NFL Sunday Ticket on all of our TVs."
Nines also offers a private executive dining or corporate meeting room, a seasonal covered balcony and the Playdium Game Room featuring 4,000 sq. ft. of games such as skee-ball, air hockey and a selection of modern electronic games.
For more information or to make a reservation, call (262) 518 – 0129 or visit http://www.ninesattheriverclub.com.
To inquire about membership at River Club of Mequon, call (262) 242- 1400 or visit http://www.riverclubofmequon.com.
About nines
nines is a new public restaurant located inside the River Club of Mequon, the most inclusive private club on the north shore. The River Club continues to expand on private club paradigms with their inclusive, community-friendly approach.