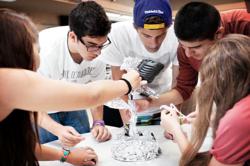 What makes DGLA unique is that it draws like-minded, action-oriented, talented people from across the globe who genuinely want to change the world
Vancouver Island, BC, Canada (PRWEB) November 30, 2012
The Dwight Global Leaders Academy (DGLA), an outgrowth of the Institute for Civic Leadership and sponsored by The Dwight Schools worldwide, announced today that it will be expanding its groundbreaking program to encompass two summer sessions, as well as adding additional programming for student attendees from around the world.
DGLA was founded to train the next generation of social entrepreneurs and youth service leaders around the world. The program has developed a global following due to its important mission and exciting curriculum. Through the academy, participants are equipped with the practical skills, leadership training, and inspiration to create public service projects in their own communities. Since 2009, DGLA participants from over 40 countries have completed hundreds of projects helping thousands of people worldwide.
"What makes DGLA unique is that it draws like-minded, action-oriented, talented people from across the globe who genuinely want to change the world," said Graham Brown, PhD, Director, Dwight Global Leaders Academy. Word about the program has grown virally, creating demand for an expanded program. "This is incredibly exciting, since it not only shows widespread interest in the program but most importantly extends the reach and impact."
"The key tenet of DGLA is that it empowers youth with the skills to take action. To date, 80% of DGLA participants have started service projects impacting their communities and inspiring others to take action," continued Dr. Brown. Previous DGLA service projects include: building clean wells in Africa; designing and executing a Mississippi River clean-up; developing recycling initiatives on six continents; building a school in Indonesia for orphans; implementing an environmental projection program for the Great Barrier Reef; and developing community service initiatives in tandem with relief organizations such as the Red Cross and the Juvenile Diabetes Research Foundation.
The intensive two-week program mixes inspirational speakers, academic theory, and exercises to develop practical skills, including team building, fundraising, goal setting, project management (GANTT charting), and public speaking.
"I've lived the mantra of Dwight Global Leadership Academy – inspire, educate, take action. I've followed my own passion for dance and created Dance for Orphans, which has raised thousands of dollars and helped dozens of children in Indonesia," said Daniel Maren, a freshman at Stanford University and a former academy participant.
For more information about the Dwight Global Leaders Academy, or to apply for 2013 summer sessions, visit http://www.dwightleadershipacademy.org.
About The Dwight Schools
With more than 500 faculty and staff from over 40 countries, The Dwight Schools together educate 2,000 students around the world, guided by a shared commitment to the International Baccalaureate curriculum and to finding and igniting the "spark of genius" that exists in every child. The Dwight Schools network is led by Chancellor Stephen Spahn, the longest-serving head of school in New York City and recipient of the national Louis Hine Award in 2011 for commitment and service to youth. For more information, visit http://www.dwight.edu.