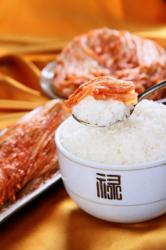 "From around four hundred varieties of Kimchi, the best ones are those which are still made from the original and ancient recipe. That is why we are bringing one of the most ancient Kimchi recipe
New York, NY (PRWEB) November 30, 2012
Korea Town, Manhattan is a place where New Yorkers arrive to experience the distinct and diverse culture of Korea. The place is specifically famous for the restaurants offering authentic Korean food. A new addition to the K-town is Muk Eun Ji Kimchi restaurant. The restaurant prides itself in offering highly exotic and authentic ancient Korean recipes.
Muk Eun Ji restaurant has already created a lot of buzz over their specialty dish, the Muk Eun Ji Kimchi. The Muk Eun Ji Kimchi is among the most ancient known recipes of Kimchi. The recipe is around three millenniums old. The secret of Muk Eun Ji's distinct and exotic taste lies in the fact that it requires at least one year of fermentation in a constant low temperature.
Excited about bringing the rare Muk Eun Ji to Manhattan, Kim Yong Sung, the president of Muk Eun Ji Restaurant, said, "From around four hundred varieties of Kimchi, the best ones are those which are still made from the original and ancient recipe. That is why we are bringing one of the most ancient Kimchi recipes to the town. Food lovers just can't help themselves getting addicted to its taste."
They stressed the fact that they ensure that the Muk Eun Ji Kimchi is prepared according to the original recipe and standards. For this reason the Kimchi offered at Muk Eun Ji is imported from Jinan, Maisan, Korea, a place where it received ★★★ from Michelin Green Guide. "We believe in offering our customers the authentic ancient taste of the aged Muk Eun Ji Kimchi. That is why it is produced near a place where finding the traditional ingredients is much more easier"
Like most fermented food, Kimchi is also among the most healthy and nutritious foods. It has also been rated among the top five healthiest foods by the Health magazine. In order to secure these benefits of Kimchi, Muk Eun Ji ensures that it is prepared in the most hygienic conditions using only top quality ingredients.
Muk Eun Ji Kimchi is already being loved by food enthusiasts across Manhattan and other parts of New York. "People know they have got to taste it. We know how they come to us with high expectations and excitement. We are equally excited to offer them the true unrivaled taste of Korea."
Muk Eun Ji restaurant is also offering a lot of other Korean dishes. The restaurant has also received countless praise for the quality of food and customer service. Despite the unique taste and superior quality, the restaurant strives to keep their prices affordable for most epicures. For this reason, the restaurant also introduces several discounts and offers. In order to inquire more about the menu and special offers, visit the restaurant's official website http://www.MukEunJiKimchi.com.
For contact, please use the following details.
Contact details
Website: http://www.MukEunJiKimchi.com
Phone: 212-736-0099
Email: pr(at)MukEunJiKimchi(dot)com
# # #