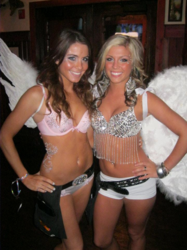 San Antonio, TX (PRWEB) November 30, 2012
Twin Peaks Restaurant, a popular restaurant and sports bar in San Antonio, recently announced that they will be hosting a watch party for the upcoming Victoria's Secret Fashion show, which will be shown live on the restaurant's HD televisions on December 4, 2012 at 9:00 p.m. The Twin Peaks Girls will wear their favorite Victoria's Secret lingerie and guests will have the opportunity to vote on the best-dressed Twin Peaks Angel, who will win a $150 Victoria's Secret gift card. Guests at the Twin Peaks Victoria's Secret watch party can also enjoy the restaurant's famous "man food" and 29-degree draft beer.
"Twin Peaks will be home to the real Angels for the evening, as the Twin Peaks Girls appear in their most angelic Victoria's Secret lingerie for the evening," said Kirsten Dixon of Twin Peaks Restaurant in San Antonio. "To top it off, the show will be broadcast live on all of our high definition televisions. We also invite you to come back to Twin Peaks for the holidays! On December 20-24th, the Twin Peak Girls will be Jingle Bell Rockin' in their Twin Peak Santa's little helpers costumes!"
Twin Peaks Restaurant is also bringing in the holiday season with their Man Card Bonus. Customers who buy a $100 in Man Cards get a $20 bonus card. In addition, the restaurant has its 2013 calendar on sale during the holiday season. The calendar is $19.95 and is filled with over $140 in valuable coupons. For complete information about Twin Peaks restaurant in San Antonio and all of their upcoming events, vist their website at http://www.twinpeaksrestaurant-satx.com.
About the company:
Since a pair of veteran restaurateurs opened the original near Dallas in 2005, Twin Peaks has busted out to 24 locations in 10 states, with plans to unleash more to serve other untapped markets. They even scored a 2010 "Hot Concept!" award from the trade periodical Nation's Restaurant News.
Take a peek at Twin Peaks' goods: specific location info, appetite-whetting menus, revealing pictures, fun merchandise, and more.
Remember: You're the Man! So get up here and enjoy the scenery at Twin Peaks! For more information, please visit their website at http://www.twinpeaksrestaurant-satx.com.