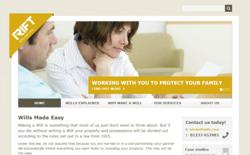 London, UK (PRWEB) November 30, 2012
There are a lot of popular myths that surround Wills and more so the myths about what happens to those who die without ever making one. RIFT Wills have launched in the UK as a premium Will writing service to help put the record straight and make the whole process a lot easier for all. In their initial research, RIFT found there were a number of misconceptions about Wills that were common amongst the UK's population:
1/ A spouse will get everything
RIFT found that many people believe that their spouse will get all their inheritance if they die intestate. This is not necessarily true. If someone dies without making a legally valid Will, their spouse or civil partner will not automatically inherit all of their Estate. There are particular rules that surround intestacy (where someone dies without leaving a valid will), if no Will has been made and there are children, the spouse is only entitled to:

The first £250,000 of the estate
The deceased's personal possessions
A life interest in the remaining half of the deceased's assets, meaning they can receive the income from this half (usually interest) but not the capital.
The other half of the inheritance is split equally between any children. If no legal Will has been made and there are no children then the spouse will receive the personal possessions and the first £450,000, any remaining balance is then split between the spouse or civil partner who receives one half of the balance, and the other half is split between parents, siblings and could possibly even go as far as nieces and nephews.
2/ Getting married won't change a Will
Those who take a walk down the aisle will actually be revoking any previous Wills that have been made, unless a spouse is specifically named in a contemplation clause beforehand.
3/ Debts all die with you
Sadly, this misconception is not true. The Executors of a Will have a responsibility to pay off any debts before anyone else gets money from the Estate. If there is not enough money in the estate to pay off the debts, then the creditors will take what they can and the rest is written off.
4/ There's no need to get married – a partner will get everything
Many people believe that in this day and age unmarried couples have the same rights as married couples. This is simply untrue. Common law partners have no automatic rights to inherit from one another on death.
5/ A family can be written out of a Will
Strictly speaking, the person making the Will decides whom they want to inherit their assets. However, family members can apply under the Inheritance (Provision for Families and Dependants) Act to challenge the contents of a Will should they feel that they should have received something.
6/ A Will has to be drafted by a solicitor
It is not a legal requirement to use a solicitor to draft a Will, nor is there any guarantee they will write a better document. RIFT's expertise in Wills and tax gives them a platform through which to provide clients with the best advice and work possible.
RIFT Wills are a brand new Will writing service based in the UK who can help customers plan, draft and store their Will, as well as give them a wealth of advice from experienced experts that will help them make the right decisions for the future. The company is a partner wing of the RIFT tax refund company, who were formed in 1999 to help construction workers claim their tax refunds from HMRC.
Visit RIFT Wills at http://www.RIFTwills.com