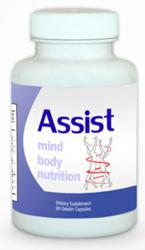 Helping you helping others reach their weight loss goals!
Las Vegas Nv (PRWEB) November 30, 2012
Salt Lake City, UT (PRWEB) September 21, 2012
Bluelineproducts.com has formulated a natural, nutritional supplement called Assist, in an effort to help the sleep deprived folks to achieve deeply relaxed, restful, state of sleep. It leaves you refreshed and you will experience the feeling of being energetic. Its outcome is strongly supported by the customers who claim that it works exactly as explained by the Blueline's top executives. Several research scientists at Blueline Labs were advised to create a formula that would easily put up a person to a deeper, restful and relaxing state of sleep that contributes to an individuals' refreshment. The cutting edge formula, Assist came into existence after performing an extensive clinical research followed by testing. These Clinical Studies have claimed that the each ingredient used in this incredible product will relax one's mind and body.
So what makes an Assist product to stand out from the rest of the sleep enhancement products on market?
It has been stated by the National Institutes of Health that about 70 percent of Americans develop sleep disorders that can have a negative impact on an individuals' alertness, safety and health which can later lead to heart disease, hypertension, stroke, diabetes and depression to name a few. Assist works by providing a restful sleep without causing any feeling of drug hangover. Moreover, Assist is a unique blend of herbal nutrients and trace elements like Vitamin B6, (or pyridoxine), sodium, magnesium and potassium. Vitamin B6 is utilized by the system to synthesize the red blood cells, while the trace elements relax the muscles, relieve from leg cramps, and balance the nutrients. It mainly contains natural amino acids along with the combination of 5-Htp and GABA which regulate the serotonin levels in the brain. The effectiveness of Assist has been proven by several clinical studies and the testimonials.
The ingredients of Assist and each of their action can be found at their very informative website and online store: http://www.bluelineproducts.com/store
Dave G Smith, CEO, is committed for fulltime in performing a thorough product research before delivering the best proven nutriceuticals to the customers. Currently, Blueline Products has set a strong milestone by releasing the most effective weight loss products and by adding the Assist Sleep Aid Formula to its list of micro-encapsulated formulas. Public can expect many more highly efficient products in the upcoming future.