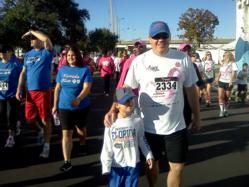 CAS contributing to eradicating breast cancer
Jacksonville, FL (PRWEB) November 30, 2012
The McCann Law Group LPP dba Consumer Attorney Services, sponsored a team of runners in the Komen North Florida Race for the Cure event at Metropolitan Park. Proceeds from the event are used to fund breast cancer related education, screening, and treatment programs for underprivileged women and men in the local North Florida five-county area.
The North Florida Race for the Cure makes strides to save lives by raising funds to support education, screening, treatment programs, and national research to end breast cancer.
According to the Komen North Florida website, "Twenty-five percent of funds raised support national research making groundbreaking strides to put an end to breast cancer forever. With 6,000 participants at the 2012 Race, we can raise $600,000--an amount that will save the lives of your neighbors, friends, family or co-workers."
Consumer Attorney Services, LLP supported the North Florida Race for the Cure's effort against breast cancer by sponsoring a 10 person team to participate in the event. The team ran in a 5k race at the Metropolitan Park in Jacksonville.
A member of the Consumer Attorney Services, LLP's sponsored team, David Holmes, described the race by saying, "The Race for the Cure was a wonderful event…This disease is close to my heart and this was a very small way for me to help contribute to eradicating breast cancer."
Holmes went on to say, "I look forward to next year's event and even had my 6 year old son involved this year…he's getting educated on the importance of the Race for the Cure..."
Consumer Attorney Services, LLP provides sponsorships and other charitable contributions to encourage positive growth among communities across the nation.
Consumer Attorney Services, LLP is a full service consumer advocacy law firm based out of Jacksonville, Florida helping families with foreclosure defense, debt settlement, bankruptcy law, and more. Consumer Attorney Services, LLP likes to support efforts from organizations like the Susan G. Koman for the Cure to help end the hardships families face when battling cancer.