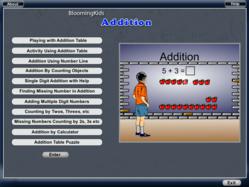 These programs help students learn Addition, Subtraction, Multiplication, and Division, along with dealing with currency of the US, Canada, and Australia. These programs are also suitable for teaching young non-disabled students in the primary grades.
Scarsdale, NY (PRWEB) November 30, 2012
"Of course, all these programs can be used to help primary-grade students learn math and money," said a spokeswoman for BloomingKids Software of Scarsdale, New York. "We developed our programs to help learning-disabled children, but our customers have found that they are very good for teaching primary school students."
BloomingKids' seven new programs include Addition, Subtraction, Multiplication, and Division as well as programs teaching students how to deal with Money that is with US, Canadian, and Australian currency.
"We have already released 38 programs. These new programs answer requests from our customers," said the spokeswoman. "We now have 45.
BloomingKids has begun rebuilding its programs into Apps that run on the Apple iPad. Apple Store Keyword;Software for Autism,Autism Apps,BloomingKids Apps.
"BloomingKids always releases its interactive computer software to therapists, parents and caregivers for online purchase," said the spokeswoman, "whenever we release it to schools and institutions.
"Compared to similar products, the software at BloomingKids is more effective and costs less," the spokeswoman said. "Parents and teachers who purchase our software can expect that these children will develop many different types of lifelong skills."
For more information, visit http://www.bloomingkids.com to view online demos of all programs.
About Blooming Kids Software, LLC.
BloomingKids is a software company based in Scarsdale, New York. The company, founded in 2004, is specifically designed to facilitate learning for children diagnosed with learning disabilities, Autism and PDD. The company's declared mission is to deliver the highest quality, most effective and affordable educational software. For more information, please visit http://www.bloomingkids.com.
Visit us on Facebook Click Here
Contact Information:
Blooming Kids Software, LLC.
36 Lincoln Road, Scarsdale, NY 10583
914-713-4440