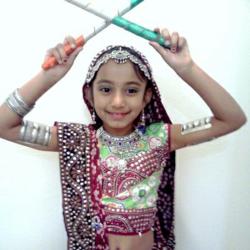 Edison, NJ (PRWEB) November 30, 2012
ALOHA USA announces the winners of their 2012 Children's Halloween Costume Photo Contest on Facebook. Parents submitted photos of their children in costume to ALOHA Math USA's Facebook page. The first prize "audience choice" winner with the most votes was awarded to Tanya Patel (Indian costume); a current ALOHA customer; from Thousand Oaks, CA, see photo. The first prize was $1900 worth of ALOHA math or writing / reading tutoring services OR an iPad mini* ($329 retail value). The randomly selected winner was Sai Navneedh Narayanan (Amazing Spiderman costume); not a current ALOHA customer; from Richmond, VA. ALOHA USA provides kids with after school math help and reading and writing tutoring programs in over 140 US locations, in 18 states.
Contest Details
To participate, parents submitted photos of children in costume to the contest on Facebook. Contest prizes include four free levels of ALOHA USA Mind Math OR four free units of Reading/Writing OR an Apple iPad mini (the iPad mini is only available as a prize to those parents who already have a child enrolled in an ALOHA USA class). One prize was awarded for the costume photo with the most popular votes on ALOHA's Facebook page, and another was randomly awarded by the sponsor.
What is ALOHA Math USA, the Contest Sponsor, and Prize all about?
ALOHA Math USA provides math tutoring in a unique way that gives kids life-long skills. For children who need help with math, or are falling behind in school, parents can get math help for their children with the unique mental math tutor program provided by ALOHA-USA.com.
The program is called ALOHA Mind Math, and "ALOHA" stands for Abacus Learning of Higher Arithmetic. An Abacus is an ancient calculator tool used by sliding beads to count. If it sounds too simple to work, you might be surprised to learn that these instructor-led small-class-size math tutoring sessions teach children to solve complex arithmetic questions (think: (128+432-46+514) / 82) in their heads quicker than most people can on a standard calculator. It also helps overcome the fear of arithmetic. This is not the repetitive or rote-learning approach to teaching kids math. The method focuses on a kinesthetic way of learning that promotes development in both the left and right lobes of the brain and improves focus giving kids a head start in all academics.
About ALOHA Mind Math
ALOHA Mind Math was introduced in the United States in 2006 and today ALOHA has its presence in over 18 states, 23 countries and 4,200 locations. With the help of the abacus, ALOHA has created a whole new dimension in the field of teaching math to young children helping them overcome their fear of arithmetic and numbers. For information, visit http://www.ALOHA-USA.com or contact the nearest ALOHA center to you. Click to find a math tutoring center near you] and schedule an orientation. For resources on teaching your kids, see ALOHA's blog for kids at ALOHAMath.com.