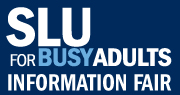 St. Louis, MO (PRWEB) November 30, 2012
The School for Professional Studies at Saint Louis University will hold an online information session from 6-7 p.m. Wednesday, Dec. 5.
Designed to fit around the schedules of busy adults who want to explore career and education options, the online information sessions include the opportunity to learn more about the bachelor's and master's programs that SLU offers for working adults.
The session will include information about the B.A. in organizational studies and the B.S. in organizational leadership and technology as well as minor/certificate programs in contract management, hospitality management, industrial psychology, organizational leadership, real estate and community development, sales leadership and strategic communications.
A computer with broadband internet access and working speakers is necessary to participate in the online information sessions.
For more information or to RSVP, visit busyadults.slu.edu or call (314) 977-2330 or (800) 734-6736.
To schedule an interview with School for Professional Studies Dean Dr. Jennifer Giancola to discuss the latest trends in educational opportunities for busy adults, call Jeanette Grider at (314) 977-2538.