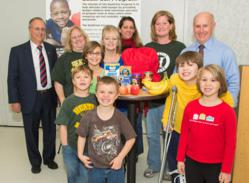 Latham, NY (PRWEB) November 30, 2012
Imagine staring into the eyes of a hungry child and having to tell her that there is no food available. Lauren Charlebois of Green Island knows firsthand the reality of this scenario. The grandmother of five recently faced this heart-wrenching situation when she became the legal guardian of her grandchildren.
Thankfully, with the help of the children's school, Charlebois discovered the Regional Food Bank of Northeastern New York's BackPack Program, which is supported in part by the annual CDPHP® Holiday Appeal.
For the 12th year, CDPHP is proud to sponsor this important program to help alleviate childhood hunger and food insecurity, which, according to a study by Feeding America, affects nearly 15 percent of children in New York.
The BackPack Program currently serves more than 700 children in 30 schools across 10 counties – double the number of children served only a year ago. The program provides nutritious, non-perishable food to children in grades K to 6 on Fridays to help feed them over the weekend.
The CDPHP Holiday Appeal will extend through the month of December, with CDPHP matching donations of $100 or more (up to $5,000) and contributing $5 for every new "like" on the Regional Food Bank's Facebook page (up to $5,000).
"We are all very thankful for everyone involved in this program," Charlebois said. "It has greatly benefitted my grandchildren and helps get us through the weekend. I am honored to be a part of it."
"At CDPHP, we know how important access to healthy food is to help children thrive, grow, and perform well at school. We truly appreciate the Regional Food Bank's effort to make sure the children in our community don't go hungry," said John D. Bennett, MD, president and CEO, CDPHP. "We hope that in this season of giving, businesses, organizations and individuals in our region will consider donating to such a worthy cause that feeds children year-round."
"The CDPHP Holiday Appeal is a critical part of the Regional Food Bank's BackPack Program. It has allowed us to develop and sustain BackPack Programs in several schools," said Mark Quandt, executive director of the Regional Food Bank. "Many needy children are able to eat nutritious meals on weekends and vacations because of the generosity of CDPHP and the people and businesses that support the appeal. We are so thankful."
About CDPHP®
Established in 1984, CDPHP is a physician-founded, member-focused and community-based not-for-profit health plan that offers high-quality affordable health insurance plans to members in 24 counties throughout New York. CDPHP is also on Facebook, Twitter, and LinkedIn.
About the Regional Food Bank of Northeastern New York
The Regional Food Bank has been helping to feed the poor and hungry in our communities since 1982. It is the only organization of its kind in northeastern New York. The Food Bank collects large donations of food from the food industry and distributes it to charitable agencies serving hungry and disadvantaged people in 23 counties.