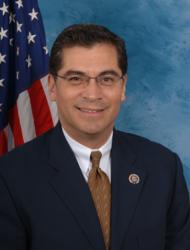 "Congressman Becerra's election as Chair of the House Democratic Caucus is a poignant example for Hispanic youth of the power of family, education, and hard work."
Washington, DC (PRWEB) November 30, 2012
"The National Alliance for Hispanic Health (the Alliance) congratulates U.S. Rep. Xavier Becerra (D-Calif.) on his election as Chair of the Democratic Caucus in the U.S. House of Representatives."
"As the first Hispanic to serve on the powerful Ways and Means Committee, Congressman Becerra has been one of our nation's most important voices for the needs of families struggling in these difficult financial times, said Dr. Jane L. Delgado, President and CEO of the Alliance."
"Congressman Becerra's story is the American story. He became the first in his family to graduate from college and while at Stanford met and married Dr. Carolina Reyes. They are the proud parents of three daughters: Clarissa, Olivia, and Natalia."
"A former legal services attorney advocating for the mentally ill, Deputy Attorney General for the State of California, and member of the California Assembly, since his election to Congress in 1992 Congressman Becerra brought his life's personal and professional experiences to Congress and has been a stalwart advocate of opportunity for all Americans."
"Congressman Becerra's election as Chair of the House Democratic Caucus serves as a particularly poignant example for Hispanic youth of the power of family, education, and hard work."
"As America moves forward on a road to recovery, we look forward to Congressman Becerra's continued leadership on issues of health care, economic recovery, and the human services needs of families and communities."
###
About the National Alliance for Hispanic Health
The Alliance is the nation's foremost science-based source of information and trusted advocate for the health of Hispanics in the United States. The Alliance represents thousands of Hispanic health providers across the nation providing services to more than 15 million each year, making a daily difference in the lives of Hispanic communities and families. For more information, visit http://www.hispanichealth.org or call the Alliance's Su Familia National Hispanic Family Health Helpline at 1-866-783-2645.