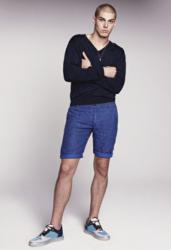 FashionMenswear has been importing and retailing the finest clothes for men from all corners of the world.
West Palm Beach, FL (PRWEB) November 30, 2012
It's time to revisit the familiar contention: American men's dress style is no competition to their European counterparts. You can even add South American and Canadian men to the winning group. FashionMenswear is uniquely qualified to ponder this situation. As importers of mens clothes, mens shoes & mens accessories for over 40 years, the opportunity to observe the sartorial customs in other shores has informed us and guided us through the ever changing world of men's fashion.
American men favor ease of putting together an outfit to a fault. One could say it's a lazy approach to dressing, one that makes choosing an outfit almost a non-issue. The staples of the American Male's wardrobe are jeans, chinos, pleated "dress" pants, t-shirts, button down shirts and a couple of jackets. It must be noted that in the last years the trend towards casualness has accelerated rapidly. Wearing sneakers at all times has become the new normal and one sees men in public wearing flip flops a lot more than would be desired. Casual Friday has become the entire week in many working environments! It's not so much the choice of clothes that is to be faulted but mostly the way the fit (or don't fit) the wearer. In an effort to accommodate a larger segment of the population into each dress size, the garments have become more generic and a little too loose in key areas resulting in ill fitting garments.
In Europe, men (and women) tend to dress up more. In France, men hardly wear tennis shoes outside the sports arena and that would be for the most casual of events. There is an entirely different approach to tailoring: it's valued! Italian men, in particular prefer their clothes to fit closer to the body. Jackets are narrower pants fit closer to the bodies. It certainly doesn't hurt that they tend not to be as large as a people as the average American has become. In a sense the dress code reflect their somewhat more formal lifestyle. They are very good at accessorizing: an elegant watch, some simple jewelry. Sometimes the effect calls for more attention getting flourishes—a knotted scarf, a certain hat or stylish eyewear will do the trick. The importance of high quality shoes to finish off a look is never overlooked.
South American men tend to follow a mix of a heavy European influence with a sizeable American infusion that is only natural if you think about their geographical placement and their ex-colonial and migration ties to Europe.
In the mostly tropical areas the use of linen can extend to nighttime and the color white and other pale hues is prevalent. Some embroidery reminiscent of the wares that Spain use to import from the Philippines can still find its way onto the modern day Guayaberas or similarly styled shirts and stylish sandals can be worn at night if you are on the coastline. The use of shorts for anything not sports related is frowned upon and generally speaking, the fact that females are supposed to go out fully coiffed and made up most of the time raises the bar for the accompanying men.
It all boils down to the outlook on life. Americans tend to work more and take fewer vacations. Europeans and many others from different nationalities prize their time-off from work and incorporate family and social life into their daily activities.
This translates into a need for a more robust wardrobe and an appreciation of the art of looking good for others. FashionMenswear has been importing and retailing the finest clothes for men from all corners of the world and would like to remind its customer base that there is no better time than the holidays to practice the art of looking good. Along with presents for your loved ones, give them the gift of looking good for them... it will be appreciated.