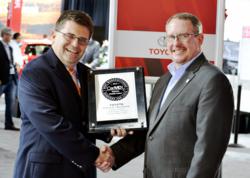 CarMD's rankings provide quantifiable recognition of the strides we're taking to maximize vehicle quality.
Los Angeles, CA (PRWEB) November 30, 2012
CarMD.com Corporation is pleased to announce that Toyota Motor Sales, U.S.A., Inc., is the no.1-ranked vehicle manufacturer in the U.S. for the second consecutive year, according to the CarMD® Vehicle Health Index™ 2012 Manufacturer Rankings. This award is based on combined fewest repair incidents and lowest average repair costs over a one-year period ending September 1, 2012.
Art Jacobsen, vice president of CarMD, presented the award to Brian R. Lyons, Toyota's safety and quality communications manager, on Thursday during Media Days at the Toyota booth in the South Hall of the 2012 Los Angeles Auto Show.
Toyota earned the no. 1 manufacturer ranking based on a record CarMD Vehicle Health Index score of 0.58, an improvement from its score of 0.65 in 2011. The score is derived from the fewest percentage of check engine light-related problems equally weighted with the average repair cost per U.S. vehicle population. The lower the score, the better the overall ranking. Toyota, which includes Lexus, Scion and Toyota, had 18 vehicles in the top 100, led by the 2010 Toyota Corolla (ranked no. 1 overall and no.1 in the compact car category)and the 2008 Toyota Yaris (ranked no. 2 overall and no. 2 in the compact category). Toyota's score is indicative of an industry-wide improvement in overall vehicle reliability.
"We are pleased to receive the Best Manufacturer Award from CarMD for the second consecutive year, and its acknowledgement of the 2010 Corolla as the top-ranked vehicle for lowest repair incidents and repair costs," said Lyons. "CarMD's rankings provide quantifiable recognition of the strides we're taking to maximize vehicle quality while minimizing cost of ownership for our customers."
The mission of Irvine, Calif.-based CarMD.com Corporation is to empower consumers and the vehicle market by providing the tools and information needed to make better-educated decisions about vehicle health and maintenance. CarMD has compiled the industry's most comprehensive database of diagnostic trouble codes and repairs for check engine-related problems, uniquely positioning the company to provide data on a wide range of vehicles and manufacturers. The CarMD Vehicle Health Index is the only index to rank manufacturers and vehicles using this type of real-life, statistically-based reliability data. Current and archived indices are available at http://corp.carmd.com. To see your vehicle's reliability ranking, visit http://www.carmd.com/scorecard.