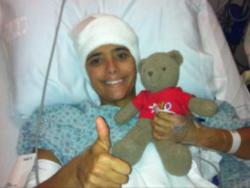 I'm going to be just fine, I'm a fighter don't worry about me
Santa Monica, CA (PRWEB) November 30, 2012
Social fundraising platform Invested.in has helped Malia Walker raise over $4,000 to help pay for her medical bills and rehabilitation and with 30 days left on her project they're hoping to make that amount much higher.
Malia, who was born pre-mature and told by doctors that she would never live, walk, or see persevered early in life to have a pretty normal childhood and adolescence. Unfortunately this July, after 19 years without any complications, Malia began to develop symptoms including severe headaches and nausea. This led to her being hospitalized again and having to have numerous surgeries.
Malia recently spent her 24th birthday in the hospital after having her 5th VP shunt replacement surgery.
Malia and her family are extremely grateful for the support they've received so far and will greatly appreciate any further contributions made.