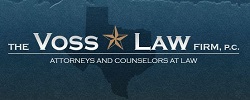 The Woodlands, TX (PRWEB) November 30, 2012
Texas trial attorneys Bill Voss and Scott G. Hunziker of the Voss Law Firm are proud to announce that they have been nominated for the 2013 Texas Super Lawyers®. Nomination is an honor in itself and serves as an indication of the attorneys' commitment to legal excellence through unwavering professionalism and ethics.
Super Lawyers® is a respected publication and company that is committed to identifying outstanding lawyers in more than 70 different practice areas. The selection process is peer-based and is a testament to the lawyers' achievements in their individual fields. Once a lawyer is nominated, he or she will go through a rigorous research and screening process that includes an evaluation of "12 indicators of peer recognition and professional achievement," according to the Super Lawyers® website.
There are a number of safeguards in place to protect the nomination and selection processes. Lawyers cannot nominate themselves and are restricted to a certain number of in-firm nominations as well. There is no campaigning or soliciting allowed in an attempt to gain nominations, and firms and attorneys are carefully watched for nomination trading and group nominations. Peer-nominations are made based on personal experience, meaning an attorney should base his or her nomination on first-hand knowledge and observance of the nominee in court, as opposing counsel, co-counsel or other scenario. Because nominations are made based on personal experience, this discourages reputation-based nominations that may serve as no indication of a lawyer's actual ability.
Super Lawyers® list nominations happen once a year, and this year Bill Voss and Scott Hunziker have had the honor of being nominated for the 2013 Texas Super Lawyers®. They will now face the second two steps of the process of potential inclusion in the list: research and peer evaluation.
A ninth-generation Texan, Bill Voss has a background rich in diversity and culture. He had the rare opportunity to grow up overseas, where his father worked as an operator for OTIS Engineering in Saudi Arabia. As an attorney, he has dedicated his career to standing up for the "little guy" and fighting for justice. This is not his first nomination to a Super Lawyers® publication. He was nominated and selected for inclusion in the Rising Stars℠ Edition of Super Lawyers®, which is reserved for young trial lawyers aged 40 and younger or who have been in practice for no more than 10 years. He has also been recognized in such publications as Forbes, Newsweek, The Legal News, Inc. 500, H Texas Magazine and Texas Monthly, to name a few. He recently was honored by being named one of Houston's Top Attorneys for the People.
Scott Hunziker's nomination to the Texas Super Lawyers® list of 2013 comes as no surprise to those who know him and have seen him in action inside and outside of the courtroom. In more than a decade in practice, he has appeared regularly in trial and appellate courts not only in Texas but across the U.S. Born and raised in a small rural town in Missouri, Mr. Hunziker was intimately familiar with the court system at a very early age. His family worked at the courthouse every day, and he was able to see his first actual trial at only eight years old, sparking a lifelong interest in the field. As Head of Litigation and Lead Trial Counsel for The Voss Law Firm, he has handled hundreds of cases involving tens of millions of dollars in controversy.
No more than 5% of lawyers in the state are selected for inclusion in the Texas Super Lawyers®. Their nomination alone signifies what an impact attorneys Bill Voss and Scott Hunziker have had in the field as recognized by their peers. To learn more about the firm, visit http://www.oilandgasdisputes.com.