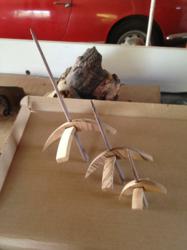 Riley makes his custom drop spindles in the afternoons when his kids are napping to help support his family. He uses exotic woods like Cocobolo, Zebrawood and Canarywood.
Spokane, WA (PRWEB) November 30, 2012
Jason Riley is a stay-at-home Dad who when times got tough, got creative. Jason grew up in his Dad's wood shop learning the basics of woodworking as a hobby craft. This year with a new baby on the way their family started to feel the economic pinch.
In the afternoon when his children are napping in the afternoon, Grandma babysits and he heads out to his makeshift wood shop on their small farm. Jason is putting his wood skills to work making drop spindles to sell to the craft market. He chose the Turkish style drop spindle which although challenging to make, it has been in high demand with the current hobby market trends and he saw a need.
The drop spindles are precision balanced and made from various exotic woods like Zebrawood and Canary wood, Cocobolo. Earlier this year he won numerous ribbons at the Spokane County Fair with some of his prototype spindles. His spindles are now sold on Etsy.com as well as Paradise Fibers.com owned by his brother in law. This stay at home Dad got creative and figured out a way to spend time with his children and still contribute financially to the family.
Paradise Fibers has been in business selling spinning wheels, drop spindles and more since 1995. Paradise Fibers has a full featured wool shop with everything from wool yarn and wool roving to weaving looms and crochet yarn. The company is family owned and operated and consists of a sprinkling of Romine family members, some amazingly dedicated fiber junkies and 1 boy aspiring to be a stunt man.
Contact:
Travis Romine – Fiber Wrangler
sales(at)paradisefibers(dot)net
http://www.paradisefibers.com
225 W Indiana
Spokane, WA 99205
(509) 536-7746