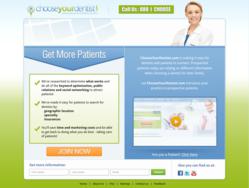 We created ChooseYourDentist.com to make the process of matching patients and dentists much easier and more cost-effective
Dallas, TX (PRWEB) November 30, 2012
ChooseYourDentist.com, a Dallas-based website that matches patients and dentists, is changing the way busy dentists market. Attracting an ongoing stream of new patients is essential to sustaining a profitable practice but marketing has gotten more challenging and expensive with the advent of today's online communication opportunities. ChooseYourDentist.com relieves dentists of their marketing headaches with its multi-layered patient attraction strategy.
ChooseYourDentist.com, a dental search website headquartered in Dallas, TX, understands the challenges dentists face in marketing their practices. With traditional media, online media, social media and Search Engine Optimization (SEO) strategies demanding attention, it can be difficult and expensive to attract new patients. An extra challenge is added because dental professionals must still provide a high level of patient care and handle all of their practice's administrative functions.
Dental marketing strategies were once based on advertising in telephone books and local media. The internet changed that and added many layers of complexity. Dental professionals with websites soon found out that it was necessary to drive prospective patients to their site. Patients searching online for "Dentist Dallas TX" can end up with over two million results. If a dentist is not at the top of these results, the patient will not find that practice. SEO strategies can sometimes help move websites up in the search results.
Some dental practices invested in Google AdWords with initial success, but this faded as other practices followed suit and costs skyrocketed. Keywords like "Dentist Dallas TX" costs a lot more per click. While expenses piled up, dentists noticed that results were not in line with their marketing costs.
"My wife is a practicing dentist in the Dallas area," commented Feridoon Amini, an IT professional and co-founder of ChooseYourDentist.com with his wife, Dr. Mojan Safavi. "We experienced the same problems in marketing her practice and knew there had to be a better way. We created ChooseYourDentist.com to make the process of matching patients and dentists much easier and more cost-effective."
Dental practices receive a microsite on ChooseYourDentist.com where they can provide background information and add a video presentation about their practice. Prospective patients can use the website to request a telephone call from the dentist or to make appointments. Future plans call for a mobile application, live chat feature and expanding communication opportunities beyond email and telephone.
Amini says the main benefit of ChooseYourDentist.com is that they are constantly researching and finding ways to increase traffic to the site, not the individual dentist. Most dentists find that it takes very few new patients to realize a positive return on their investment in this program. ChooseYourDentist.com also does the work of providing patient education, so practices can focus their microsites on providing only pertinent information.
Further information on ChooseYourDentist.com may be found at http://www.ChooseYourDentist.com, by email at info(at)ChooseYourDentist(dot)com, or by calling 1-888-ICHOOSE. Amini and his wife also co-founded DentalSpots.com, a website designed to help dental practices fill part-time, full-time and temporary dental jobs.