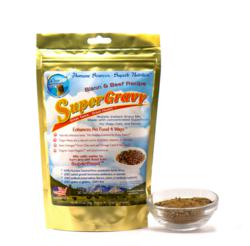 SuperGravy is the world's first all-natural, "superfood" based instant gravy pet food topper. It was designed to boost flavor, encourage better hydration, and add essential nutrients to dry foods for dogs and cats.
Wilton, CT (PRWEB) November 30, 2012
Earlier this month, Clear Conscience Pet captured a third national industry award for their innovative holistic pet products and sourcing methods. This time it was the 2012 Editor's Choice Award for Animal Nutrition, awarded for the company's SuperGravy brand of instant holistic pet food enhancing gravy, and presented at the SupplySide West conference and trade show in Las Vegas. The event is produced by the Virgo Health and Nutrition Network, a major publisher and trade show producer in the nutraceuticals, health foods, and supplement ingredient industries.
Previous awards in the past 12 months include the Pet Age Magazine's 2012 "Green Spirit Award" and Pet Product News International's "2011 Editor's Choice Award". Clear Conscience Pet is the first and only company to have achieved this triple crown of award recognition in the pet nutrition industry in less than a year.
This latest award is especially notable because of the powerful companies that Clear Conscience Pet faced in the competition. The other finalists in the category included nominees from the Mars Petcare Greenies brand; a Purina product; and foods made by Blue Buffalo, a leading holistic pet food brand. The winning product, SuperGravy, has essentially created a new category in the multi-billion dollar pet care industry and has brought a big jump in sales as well as recognition for this family-owned small business startup.
SuperGravy is the world's first all-natural, "superfood" based instant gravy pet food topper. It was designed to boost flavor, encourage better hydration, and add essential nutrients to dry foods for dogs and cats.
"It is hard to describe how excited and honored we were when we were chosen for this award," said Anthony Bennie, founder & president of Clear Conscience Pet. "Just being named as a co-finalist among these giant companies proved that our dedication to pet health and responsible sourcing was getting noticed. But the feeling we had when our name was announced as the winner is indescribable. We felt a little like 'David versus three Goliaths.' And the fact that this was not even a pet industry event, but instead represented the entire international healthy food and supplements business, is an astounding accomplishment for our young family-owned business."
Heather Granato, Virgo's Group Editorial Director, had this to say about the award: "What really appealed to the editorial team about SuperGravy was the high quality of the ingredients…It was apparent looking at the ingredient list that the product was formulated with the highest nutritional standards and a desire to truly make a difference for animals in need. After announcing that Clear Conscience Pet's SuperGravy was the winner of the category, I had a chance to talk with the company's founder, Anthony Bennie. He has such passion to help change the face of animal nutrition by developing and offering products that really deliver the nutrition animals need for long healthy lives."
SuperGravy contains a harmonized blend of animal protein and concentrated phytonutrients including beef & bison heart & liver, chia seed (a source of Omega 3 & 6 fatty acids) and a powerful vegetable blend comprised of concentrated spinach, carrot and pumpkin. When sprinkled on top of dry pet food and mixed with warm water, it creates an "au jus" style gravy that pets love, as evidenced by the consistently enthusiastic reviews that the product has garnered. Yet the product adds only 20 calories and one gram of fat or less per serving, so it's a healthy addition and not a diet buster.
More information and purchasing options are available on Clear Conscience Pet's website.
# # #
About Clear Conscience Pet®, LLC
Clear Conscience Pet® is a multiple award winning pet nutrition company founded with the mission of using ingredients from sustainable family farms to make exceptionally healthy treats, chews, and the SuperGravy line of pet food enhancing gravies. The company's current products (clearconsciencepet.com/products) include the patent pending OSV™ treat and chew line, SuperGravy®, the first Holistic Instant Dry Gravy Mix and Nutrient Enhancer for pets, and Cruncherz™ Gluten & Grain-Free Bakery Treats. The company is based in Wilton, Connecticut and is family-owned by Founders Anthony Bennie and Amanda Malone Bennie. They currently market their pet food products to pet supply retailers, veterinarians, health food stores, and other pet specialty outlets.
Web address: http://www.clearconsciencepet.com
Facebook page: http://www.facebook.com/Clear.Conscience.Pet.LLC
Video interviews with Founder, Anthony Bennie: visit:
http://www.clearconsciencepet.com/ccp-tv