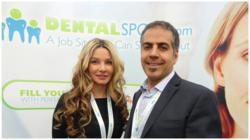 we started ChooseYourDentist.com as an online communication platform where patients can search for information and contact dental professionals
Dallas, TX (PRWEB) November 30, 2012
ChooseYourDentist.com, a Dallas-based dental search website, is changing the way busy moms search for family dentists. With everything they have to manage during a day, maintaining oral health is a top priority. Unfortunately the internet hasn't made this job any easier. When moms conduct a search for "Dentist Dallas TX," over two million results are found. ChooseYourDentist.com makes the process much easier.
ChooseYourDentist.com, a dental search website headquartered in Dallas, TX, understands the challenges families encounter in finding the right dentist to meet their oral healthcare needs. Some families may need several oral care specialists such as a pediatric dentist, orthodontist, or endodontist. Usually the job of finding a family's dental care professionals falls to the mom.
This task can be challenging, even with a great deal of available time, but most moms are busy with jobs, arranging family schedules, and managing household tasks. Sometimes they turn to other mothers for advice, but frequently end up spending valuable family time searching for a Dallas dentist. If they type "Dentist Dallas TX" into a search engine over two million results appear. When this chore is handled at night or on the weekend, it is difficult making initial contact with a dental practice to obtain more information.
"Fortunately my wife is a practicing dentist so we don't have that problem," commented Feridoon Amini, an IT professional and co-founder of ChooseYourDentist.com with his wife, Dr. Mojan Safavi. "I spend time at her practice helping with operations and we encountered a lot of frustration from patients saying how difficult it is to find the right dental professional. We knew there was a better way, so we started ChooseYourDentist.com as an online communication platform where patients can search for information and contact dental professionals."
Regular dental care is a crucial part of any family's healthcare regimen. Whether it's taking care of baby's first teeth, providing braces and sports mouthguards for teenagers or deciding if wisdom teeth should be extracted, these dental decisions can affect a child's health right through the adult years. ChooseYourDentist.com gives moms access to microsites containing background information on many types of Dallas dentists. She can search by dental specialty, insurances, or zip codes that are close to home, work or school. Some dentists also add a video presentation to their microsite which gives prospective patients a chance to see and learn more about them and their practice. If a prospective dentist meets the family's needs, the mom registers and has the ability to request a telephone call or make appointments with a selected provider right from the website. Future plans call for a mobile application, live chat feature and expanding communication opportunities beyond email and telephone.
Further information on ChooseYourDentist.com may be found at http://www.ChooseYourDentist.com, by email at info(at)ChooseYourDentist(dot)com, or by calling 1-888-ICHOOSE. Amini and his wife are also co-founders of DentalSpots.com, a website designed to help dental practices fill part-time, full-time and temporary dental jobs.