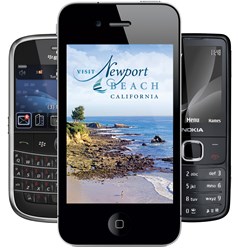 "The Marketing Team at Visit Newport Beach Inc. is continuously innovating new ways to effectively reach leisure and business travelers to promote Newport Beach as a premier destination," says Vicki Higgins, Senior Vice President of Marketing
Newport Beach, CA (PRWEB) November 30, 2012
Visit Newport Beach Inc. announced the launch of the "Visit Newport Beach Inc. Mobile Concierge" iPhone and Android Mobile application. Developed by VisitMobileTM, the Mobile Concierge app is a downloadable Newport Beach destination guide that provides an effortless way for travelers to plan and navigate their way through Newport Beach, California.
This "one-stop" app detects your current GPS location and provides a virtual guide for the traveler to find nearby attractions, hotels, shops, restaurants and more. Featuring a user-friendly interface, the app also provides real-time weather, local event information, and an interactive map - turning your phone into your own personal concierge service.
Using the exclusive Virtual LocationTM feature, visitors may also explore different areas of Newport Beach by selecting any point of interest on the map to visualize what is around them. The solution includes a Favorites section, where points of interest, businesses and promotions may be conveniently saved and shared with friends.
"The Marketing Team at Visit Newport Beach Inc. is continuously innovating new ways to effectively reach leisure and business travelers to promote Newport Beach as a premier destination," says Vicki Higgins, Senior Vice President of Marketing for Visit Newport Beach Inc. "The Mobile Concierge app keeps Newport Beach on the leading edge of technology to give the traveler best and customizable experience in our destination."
The Mobile App can be downloaded for free from the iPhone App store or Android App store or by signing up on http://www.visitnewportbeach.com/mobileapp. It's universally compatible and works for both international and domestic visitors.
About Newport Beach, California
Nestled among golden stretches of pristine Pacific coastline between Los Angeles and San Diego, Newport Beach epitomizes the casually sophisticated lifestyle of Southern California. This idyllic seaside destination is widely celebrated for its natural beauty and vibrant yachting community alongside stylish accommodations, eclectic coastal cuisine and upscale shopping. Ranked among the "Top 10 Resort Towns in the U.S.," Newport Beach is also distinguished as one of the country's "Top 10 Best Family Beaches." A mild climate and picturesque backdrop minutes from the newly expanded Orange County/John Wayne Airport (SNA) offer year-round appeal. For more information on Newport Beach or for a complimentary visitor guide, please visit our website or call (800) 94-COAST.