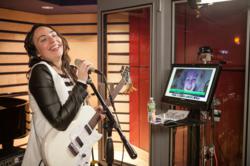 "We are always seeking out innovative ways to engage our residents, prospective renters and the community," said Jonathan Fishman, Director of Business Development at Stonehenge.
New York, NY (PRWEB) November 30, 2012
LIVE at Stonehenge the new virtual concert series sponsored by Stonehenge Partners, kicked off last night with a performance by Daria Musk, the singer/songwriter who has created a fan-base of over 2.2 million global fans using Google+ Hangouts, one of the newest social media platforms. The Manhattan-based real estate company, known for its innovative lifestyle programming and commitment to building strong and supportive communities throughout their 27 building, 3,000 apartment portfolio, is using the series as a marketing initiative to reinforce their lifestyle brand and to widen their global footprint. The show was streamed live via a Google+ Hangout concert from KMA Studios in the Brill Building at 1619 Broadway in Times Square. The Brill Building, has a legendary music history with recording many great artists including Carol King, Whitney Houston, and Beyonce. A portion of the concert was also aired live on the Clear Channel Spectacolor digital screen located above the W hotel in Times Square.
Daria started her performance last night with a song called "+1 Me" which she created to commemorate a special moment that took place during her first hangout concert when a viewer in Norway turned his computer to share the sun rise with thousands of other virtual concert-goers. The intimate in-studio audience watching Daria perform at KMA Studios was made up of a select group of Stonehenge residents and friends, though thousands of others attended virtually, via Stonehenge's Google+ page, http://www.gplus.to/stonehengenyc. The simulcast series enables everyone to interact with artists and participate – live or virtually.
"The kick-off event for the LIVE at Stonehenge series was a huge success," said Jonathan Fishman, Director of Business Development for Stonehenge. "We are always seeking out innovative ways to engage our residents, prospective renters and the community. We believe that the Google+ Hangout platform allows us to showcase our lifestyle programming to a global audience."
"The most life-changing thing is connecting with people, all over the world, both live and interacting with them through the songs and Google+ Hangouts," said singer/songwriter Daria Musk. "I'm always thinking up new ways to push the envelope and to thank this global family of fans by participating in cool events and adventures for us to share. I'm so excited Stonehenge gave us the chance to make a little music history in a historic music landmark, together."
KMA Studios was proud to partner with Stonehenge to present a Google+ Hangout with Daria Musk. Through the collective efforts of the KMA staff, coordinated by Studio Manager Conrad Martin and Technical Director Casey Flynn, the event was flawless thanks to their audio production efforts. KMA is already looking forward to working with Daria, Stonehenge and Google in the near future for related events.
IKA Collective is a team of creators with rich, varied backgrounds in all aspects of strategic, creative production. Their team handled the video production last night, capturing the best of Daria during her performance. For over 25 years, IKA Collective has been exceeding expectations on all scales, across all platforms. They are passionate about enhancing brands and bringing that passion to every project, as they did with the first "LIVE at Stonehenge" event.
To watch a replay of the Google+ Hangout concert:
http://bit.ly/TwSHhi
For more information about Live at Stonehenge or Stonehenge Real Estate visit: http://www.stonehengenyc.com.
###
About Stonehenge Partners
Stonehenge Partners is a fully integrated real estate company which was founded over 18 years ago by Ofer Yardeni and Joel Seiden. The Company owns and manages a 27 building portfolio encompassing over 3,000 rental apartments and close to 800,000 square feet of retail, office and garage space. The Company is headquartered at 888 Seventh Avenue in Manhattan. http://www.stonehengenyc.com
About Daria Musk
Daria Musk is a singer/songwriter whose invitation to Google+ in summer 2011 sparked the idea to perform a live concert via Google+'s video chat feature, "Hangouts." Musk went global overnight. An instant world-wide hit and inspiration to coders and engineers, Daria became the voice that launched a thousand lines of code as 9,000 viewers from 100 countries were allowed access to watch her perform live via video chat. She is model for major tech innovations and Google engineering evolutions including the new "Hangouts On Air" broadcasts by Google. She's now been featured in Billboard Magazine, Entertainment Tonight and Good Morning America and has given her first TED Talk, hit stages and panels for SXSW, CMJ, BMI and more.
http://www.dariamusk.com and http://www.google.com/+dariamusk