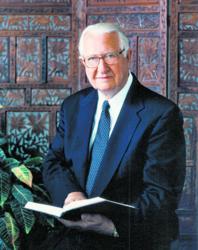 The Companion was 100-percent successful for the removal of pharmaceutical restraints, and she's now awake, alert, and ready for cognitive therapy.
Atlanta, GA (PRWEB) November 30, 2012
At 95 years old, former Pennsylvania Governor George Leader spends his days at a senior living retirement community—but not as a resident. Leader is the Founder and President of Providence Place, a four-facility senior living management company, and the founder and past president of Country Meadows, another senior living company which is now operated by his two sons, Michael and David.
Leader's reason for developing Country Meadows and Providence Place, and for continuing to work well into his 90s, is simple: A commitment to reducing pharmaceutical restraints for those with Alzheimer's disease, dementia, and memory loss. He has made exciting new advancements in memory care, especially at Providence Place in Chambersburg, Penn., with the introduction of the SimpleC Companion, a touch-screen therapy that fosters measurable improvements in memory and social engagement without the use of medication.
"Leader has a lifelong passion for helping the disabled," said Steve Shinnick, founder and vice president of business development for MediaCare Solutions, Inc., the company that introduced Providence Place to the SimpleC Companion. "During his time as Governor, Leader personally drew up and executed legislation that reincorporated special education children into mainstream schools—legislation that has now been adopted nationally as today's special education laws. He has always had a real vision for non-pharmaceutical care, and is 100-percent passionately dedicated to cognitive therapeutics."
Leader realized a new level of success with non-pharmaceutical cognitive therapy when he brought the SimpleC Companion to the Chambersburg, Penn., Providence Place, under the leadership of Executive Director Rodney Stoops and Director of Wellness Sharon Scott.
"We find that residents adapt to our environment, participate more, and need less one-on-one assistance and medications for adaptation and behavior issues when they have a SimpleC Companion in their room," said Scott. "Because the SimpleC Companion can be programmed to an individual resident's needs and can include family pictures and even family voices, the Companion offers a non-invasive, healthy means of calming, soothing and connecting with the residents and is a way of giving highly individualized attention, which everyone needs."
"One particular resident had received 50 to 60 doses of medication for behavior modification in the prior year," said Stoops. "Once we introduced the SimpleC Companion, she went to zero doses. The Companion was 100-percent successful for the removal of pharmaceutical restraints, and she's now awake, alert, and ready for cognitive therapy."
"The SimpleC Companion was a huge cost savings for the family, with great potential savings for Medicaid and Medicare," added Shinnick.
The SimpleC Companion is an intuitive touch-screen that promotes memory, engagement, and better communication for seniors. During key times throughout the day, the unit is activated and delivers scheduling help, such as activities and mealtimes, and also behavioral interventions for under stimulation, sundowning and aggression - all without the use of medications. Users receive rich visual cues such as their own family photographs, and hear meaningful audio such as preferred pieces of music and personalized messages recorded by family members or a favorite caregiver, to stimulate positive memories and foster healthy daily routines. With The Companion, SimpleC has created a solution that improves the quality of life for those living with Dementia and Alzheimer's, while also focusing on caregivers and providers, and the ways they can save time and money.
For more information, visit http://www.SimpleC.com.