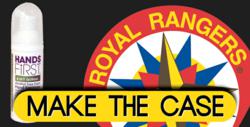 Add a quotableRather than doing a traditional fundraiser involving door-to-door selling of one or two products at a time, we decided to leverage the business community within each of our churches and aim to sell entire cases at once
Springfield, MO (PRWEB) November 30, 2012
Thousands of Royal Rangers from Outposts across the country have started the "Make the Case" fundraising campaign. "Make the Case" for Royal Rangers tasks each of the more than 180,000 Rangers to sell at least one case of Hands First Sanitizer to a business owner within their church congregation.
"Rather than doing a traditional fundraiser involving door-to-door selling of one or two products at a time, we decided to leverage the business community within each of our churches and aim to sell entire cases at once," says Doug Marsh, National Director of Royal Rangers. "This helps reduce the stress fundraising can have on a parent, generates a greater profit back to each local Ranger Outpost while providing a product businesses need," he says.
Hands First Sanitizer is a non-alcohol hand sanitizer that is medically documented to provide lasting protection for up to three hours without the need to reapply, while also providing moisture to keep hands hydrated and healthy.
"Our hands represent the most common point of contact between ourselves and others, making hand hygiene a first line of defense and protection against viral illnesses," says Dr. Roger Huckfeldt, inventor of Hands First. "Often times our co-workers come to work when they are first experiencing symptoms but are already contagious. Having a quality hand sanitizer available to employees throughout the day will help minimize contraction risks," he says.
Capitalizing on the re-direct spend concept, "Make the Case" offers businesses and organizations the ability to buy a product they will not only use, but were most likely going to purchase anyway and support the Royal Ranger ministry at the same time. "Times are still hard for many businesses, many of whom would like to support organizations like Royal Rangers but don't have the extra funds to do so," says Marsh. "Make the Case gives businesses the opportunity to provide that financial support, while in return getting a useful product to help keep their employees and customers healthy."
Hands First is available in cases of 1.7 oz. bottles, 20 oz. bottles and wall mounts, ensuring the hand sanitation needs of any type and size of business entity can be met. If you are interested in supporting the "Make the Case" campaign, email royalrangers(at)handsfirstsanitizer(dot)com to locate a participating Outpost near you.
Royal Rangers
Royal Rangers is a mentoring program for future men that provides Christ like character formation and servant leadership development for boys and young men in a highly relational and fun environment. The organization's mission is to evangelize, equip and empower the next generation of Christ like men and lifelong servant leaders. Launched in 1962, Royal Rangers has grown to include active programs in 86 countries.