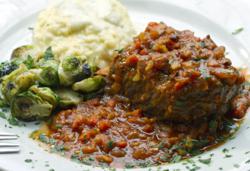 We are grateful to be a part of this warm and energized neighborhood and we plan to provide our guests with unforgettable memories and addictive flavors
Milwaukee, WI (PRWEB) November 30, 2012
Milwaukee, Wisconsin is set to be the new home of celebrity chef Michael Feker's newest culinary endeavor, IL MITO Trattoria East. Feker currently operates IL MITO Enoteca in Wauwatosa/metro Milwaukee along with his gourmet Culinary Studio, CMF's School of Culinary Magic where he hosts private dinners, wine tastings, beer tastings, private cooking lessons and more. Through all of his ventures chef Feker strives to get his guests back to the table, eating pure healthy ingredients that are prepared with love.
Located in the historic Knickerbocker building, at 1028 E Juneau Avenue in Milwaukee, Wi, IL MITO East promises to bring healthy, Italian/Mediterranean-inspired flavors – including full gluten-free menus for lunch, brunch and dinner -- to the downtown dining scene. Overlooking gorgeous Lake Michigan, IL MITO East shall be open seven-days a week, and with valet parking, proves to be an ideal location for business lunches for the downtown Milwaukee community. Brunch will be served starting at 9 am on Saturdays and Sundays, and the kitchen will be open for late-night diners until midnight on the weekends, 11 pm Sundays through Thursdays.
"It is only meant to be that the first restaurant that we dined in while doing our market research is where we will be planting the seeds of our growth now," Feker says of the new space. "My team and I are very excited to be given the opportunity to share our love for life, food and amazing dining experiences to Milwaukee's east side. We are grateful to be a part of this warm and energized neighborhood and we plan to provide our guests with unforgettable memories and addictive flavors."
In addition to his restaurants, chef Feker appears weekly on Milwaukee's FOX6, he is an ambassador for culinary equipment created by Boelter Super Stores, donates his time to Stillwaters Cancer Support Services, the Wisconsin Integrative Medicine Society promoting food as medicine and on and on, all with the strict mission to touch as many lives as possible through healthy foods and cooking.