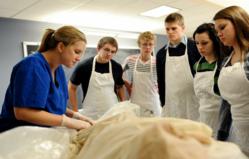 "Working two years with a cadaver as an undergraduate has helped me become a very competitive medical school applicant and more confident in my independent learning abilities," says Westminster senior Misty Todd from LaGrange, MO.
Fulton, MO (PRWEB) November 30, 2012
College senior Jasmine Brown from Little Rock, AR holds up a human heart, explaining its parts and functions to an enrapt group of Missouri high school students.
A group of 26 high school students from Chillicothe High School traveled to Westminster College in Fulton, Mo. this week to visit one of the most unique human cadaver programs at an undergraduate college and one of the first of its kind to be offered at an institution of Westminster's size.
During their visit, the Chillicothe students visited five different stations, including x-rays, CDs with x-rays and CTs of student injuries, study of the human brain and physiology, active cadaver dissection and an explanation of the dissected cadaver.
Chillicothe seniors Madi Contron, who plans on going into trauma surgery, and Jordan Huddleston, who wants to enter the field of prosthetics, found the day to be "a fascinating new learning experience."
"In a rural school, we don't have an opportunity such as this available so when I learned about the Westminster program I suggested to our Biology teacher Stacy Surber that we should go," says Chillicothe High School Counselor Cindy Baker. "It is so much more effective for our students to hear about college programs from the actual college students involved in the program, rather than adults. They see what these college students are doing and think: I could be them."
Established in 2005 through a Biology Department initiative and the generous donations of time, money and equipment from past and present members of the Board of Trustees, the Westminster human cadaver program specifies that Westminster students will perform all dissection duties rather than observe a professor conducting the dissection.
"Students tell us that to have this kind of personalized, hands-on experience as an undergraduate is what sets us apart from other programs—and is exactly what they want to better prepare them for the next level," says Kelle Silvey, Westminster Director of Admission. "We are fortunate to have such a well-established program where students actually get to do the work—and not just watch it getting done."
Bio 203 Human Anatomy, the beginning class, where students learn anatomy through the use of traditional models, radiographic images and hands-on cadaveric dissection, is filled on a first-come, first-served basis. While every student has the opportunity to dissect every two weeks, all students have access to the cadaver to study five days a week.
To qualify for the advanced class, Bio 415 Gross Anatomy, students must have earned an "A" in the basic class, submit an application and be selected by the members of the Biology Department faculty. The up to six students in this class receive a single cadaver to dissect over the course of the semester. They perform more difficult dissections, note and measure any anomalies discovered and use histological techniques.
The professor in charge of the program, Dr. Dawn Holliday, places special emphasis on respect for the anatomical donor and the ethical responsibilities involved. At the end of the semester, the students meet in the college chapel, the Church of St. Mary the Virgin, Aldermanbury, for a memorial service for the body.
"Working two years with a cadaver as an undergraduate has helped me become a very competitive medical school applicant and more confident in my independent learning abilities," says Westminster senior Misty Todd from LaGrange, MO.
The Westminster College cadaver program provides a valuable edge for those planning on attending medical school. Out of last year's five students in the advanced cadaver class, one matriculated to the University of Missouri School of Medicine, one is currently employed and applying to medical school, one decided to pursue graduate school and the other two are currently seniors at Westminster.
"As a freshman enrolled in a non-major biology course, my decision to change my major from education to biology happened in an instant when my professor took the class up to the cadaver lab," says last year Westminster graduate Rachel Backes from Tipton, MO. "Standing there in front of a cadaver on a table, with a human heart in my hands, might make you want to turn away but it is easily one of my favorite experiences at Westminster. I wanted nothing more than to stay longer and learn more. I changed my major and never looked back."
Founded in 1851, Westminster College is one of the top liberal arts colleges in America, according to all major educational ranking firms including U.S.News & World Report, Forbes magazine, The Princeton Review and Washington Monthly. National high school counselors recognize Westminster as one of the Top Two Liberal Arts Colleges in Missouri to receive the best education. This selective college for men and women operates on two campuses, one an 86-acre residential campus in Fulton, MO, and a second Southwestern urban campus in the vibrant downtown of Mesa, AZ. Westminster is a challenging academic environment where students are educated to lead and inspired to achieve.
To learn more about Westminster College, people can visit the College web site at http://www.westminster-mo.edu.
###