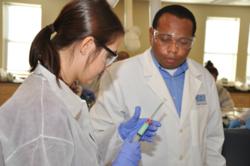 Portland, Maine (PRWEB) November 30, 2012
The inaugural class of the University of New England College of Pharmacy will graduate in May 2013 prepared to serve customers of all needs, including the medication needs of veterinary patients.
Students in their third year of a four year program have the opportunity to take an elective class in veterinary pharmacy that includes training in the safe production of compounded veterinary drug prescriptions. A lab this year for the Class of 2014 was co-organized by Steve Hauke, RPh, veterinary pharmacist and owner of PetScripts in Yarmouth. Hauke provided valuable focus and guidance during two separate laboratory exercises in November where students learned how to safely and effectively fill orders for custom compounded veterinary prescriptions.
"Many drugs do not come formulated for a certain species or a specific animal use, so veterinarians commonly order compounded drug prescriptions for their patients," said UNE Assistant Professor Cory Theberge, Ph.D. "These compounded preparations are increasingly sought by cost-conscious pet owners in retail and community pharmacies, so pharmacists with animal-specific drug formulation skills are emerging as valuable additions to retail and community pharmacy teams."
Theberge added, "The laboratory component of the elective class is beneficial because veterinarians really appreciate pharmacists who can offer constructive input when managing the medication needs of a wide range of species and sizes of animals."
The University of New England is an innovative health sciences university grounded in the liberal arts, with two distinctive coastal Maine campuses and unique study abroad opportunities. UNE has internationally recognized scholars in the sciences, health, medicine and humanities, and offers more than 40 undergraduate, graduate and professional degree programs.