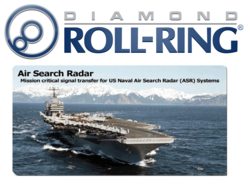 Littleton, MA (PRWEB) November 30, 2012
For example, a custom Roll-Ring® was recently subjected to 1,000 hours at 1,200 rpm at 0.006" displacement at elevated temperatures for an aircraft application. The incumbent slip ring was capable of performing 100 to 150 hours before requiring replacement. The Roll-Ring® not only survived the 1,000 hours or 72 million revolutions but was able to pass data at 15 MB/s at 30 MHz "flawlessly" throughout the evaluation. The unique design of the Roll-Ring®, a ring of gold plated spring copper captured between two conductive grooves, provides for outstanding vibration resistance.
Shock resistance was verified by testing Roll-Ring® devices to US Navy specifications as well as to NASA specifications. A custom Roll-Ring® device was purchased by the US Navy to replace a slip ring in a radar application aboard capital ships. The Roll-Ring® was built integral to the microwave rotary joint and the entire assembly was subjected to and passed a 180g shock test. Roll-Ring® assemblies built for NASA for the International Space Station to conduct power and data between the solar arrays and the command module was subjected to and passed a 300g shock test.
Naval, land, air and space customers continue to select Diamond Roll-Ring® devices for their mission critical applications where long life and shock and vibration tolerance are important parameters. The updated Roll-Ring® Product Data Sheet incorporates customer results into the existing list of mission critical features and benefits.
About
Diamond-Roltran, LLC provides the proven Roll-Ring® rolling electrical contact solution to replace slip rings for rotary power, signal and data transfer requirements for mission critical applications the world over. Diamond-Roltran supplies its maintenance-free mission critical Roll-Rings® directly to military and aerospace customers worldwide and supplies Roll-Rings® integrated into rotary couplers for microwave antenna applications through Diamond Antenna & Microwave and now Diamond Antenna Europe BVBA. http://www.diamondroll-ring.com
Diamond Antenna and Microwave Corporation is a leader in the design and manufacture of microwave rotary joints in rotary antenna radar and satcom applications. Technology enhancements available from Diamond include the patented compressive choke module with unsurpassed channel isolation and Mode S compliance in air traffic control applications as well as integrated Roll-Rings® which offer maintenance-free performance in data, signal and power transfer. Diamond is located in Littleton, Massachusetts in the United States. http://www.diamondantenna.com