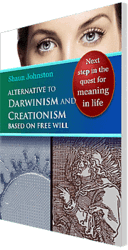 Scientists point to threats posed by a creationist agenda to justify enforcing a determinist agenda on us and our children. A plague on both their agendas! Let's come up with our own. Take On Darwin.
Rosendale, NY (PRWEB) November 30, 2012
The takeondarwin.com website was launched December 1, 2010 by writer Shaun Johnston. He launched the website to provide a voice for those frustrated by the unwillingness of professional biologists and other scientists to acknowledge flaws in the prevailing new-Darwinism.
"Science has lost touch with the issues raised by us having evolved," Johnston said. "It's time for the humanities to tackle them once again. Of the original pioneers in evolutionary theory only Lamarck was a professional scientist at the time he published his ideas. Charles Darwin had qualified only for the clergy, his grandfather Erasmus Darwin was a family doctor, Samuel Butler was a writer and an artist and art historian." Johnston exhorts fellow devotees of the humanities to go back to the original discoveries in evolution and look for new meanings free of the Positivism that has mistakenly been allowed to dominate evolutionary theory up to the present.
Johnston developed a special interest in evolution in his teens when he adopted Charles Darwin's "Origin of Species…" as a text for practicing oratory. In evolution, he concluded, must lie the ultimate truth about human nature. He went on to study biochemistry at University College London and became both a medical and science writer. But his interest in the implications of evolution for human nature drew him into writing and publishing books under the imprint "Evolved Self Publishing." In the course of writing two novels he became convinced that natural selection and genetic mutation could not be significant drivers of evolution.
Johnston claims he has no inclination to creationism. His aversion to neo-Darwinism came out of his researches while writing. "While mulling over his travels Charles Darwin came across a review of a book written by Auguste Comte, and became converted to Comte's vision of a Positivist science free of 'volition, both natural and supernatural,' a ban that applied to free will" Johnston says. "From there comes today's refusal among scientists to take free will and consciousness into account, resulting in a divorce between expert and public that shows no sign of lessening."
As part of his reachout to the humanities Johnston is offering college humanities departments in New York City and the mid Hudson Valley a live performance titled "What it Means That we Evolved: A Dialogue Between Charles Darwin and Galileo" in which, dressed as Darwin, he plays both Darwin and Galileo. The performance runs 75 minutes. It provides humanities students with excellent training in critical thinking, and an introduction to the issues raised by evolution.