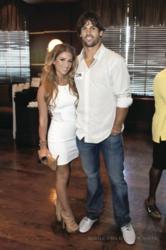 Nashville, TN (PRWEB) November 30, 2012
SOTL.com, The Voice of the Players, releases new installments of NFL player blogs. NFL players continue to share their passions off the field with various blogs and topics on their website at SOTL.com.
Denver Broncos Eric Decker and fiancé Jessica James have a new blog installment where they talk about their relationship. In this week's blog, they participated in a fan Q&A where they answer questions directly from fans. One fan asked, "How did you both realize you had found the one?"
"I knew Jess was the one after the first time we spoke on the phone, said Decker. "It was so easy to talk to her and I didn't ever want to get off the phone with her," said Decker. "Then I met her in person and was completely mesmerized by her, she was so fun and easy to be around and she made me laugh so hard. I knew she was going to be my wife after I went to Texas to meet her family and where she came from."
Jessica James shared her own insight as well.
"I knew Eric was the one when I realized I hated spending any time away from him and I wanted to be around him 24/7," said James. "He was different than any man I had ever met in my whole life. We fell in love so fast and it scared a lot of people because they had never seen him like this and that made me realize this was real for him too."
For Eric Decker and Jessica James Blog, visit
http://sotl.com/ericdecker/post/175788/eric-decker-and-jessica-james-fan-q-a
Benjamin Watson gives us a behind-the-scenes look at the filming of the Browns NFL PLAY 60 PSA commercial campaign. PLAY 60 is an NFL campaign that encourages youth to get at least 60 minutes of activity each day for a healthier lifestyle in the fight against childhood obesity. Captured in the video is Browns teammate Jordan Cameron as he shows off his basketball skills with a few dunks at the school.
For Benjamin Watson's blog, visit http://sotl.com/benjaminwatson/post/175686/benjamin-watson-behind-the-scenes-nfl-play-60
This week Barry Sanders talks about his list for the top running backs in the league.
"Being a great RB in this league is more than athletic ability or talent," said Sanders. "It's about being smart and playing that way. It's about learning and practicing and anticipating. It's about teaching your mind to think and react in certain ways. There's certainly some talent out there utilizing these skills, and it's what can extend longevity in this game that has changed so much. I truly enjoy watching AP play. The aforementioned Arian Foster. Then you have a different build and breed of players in the likes of Ray Rice and MJD (without injury). It's been remarkable to watch breakthroughs of Doug Martin and CJ Spiller. The RB position is unique that you never know who will sit atop the leader board."
For Barry Sanders blog, visit
http://sotl.com/players/post/175153/barry-sanders-the-rbs-at-the-top-of-my-list
More About School of the Legends / SOTL.com& SOTLTraining.com
SOTL.com was founded in 2009 as a social media and news site, an Officially Licensed Product of the NFL Players Association, and serves as "The Voice of the Players"™ with more than 2,500 current and former players contributing to the site. SOTL.com features weekly football and lifestyle blogs by dozens of NFL players and alumni, including Jerome Bettis, Barry Sanders, Patrick Peterson, Will Smith, Dwayne Bowe, Cliff Avril and others. SOTL.com is the player's site where they comment directly on football news stories of the day and contribute to exclusive player polls that give fans their perspective on the league's most important issues.
The sister site, SOTLTraining.com, is the premier online source for football training classes with the instructional video series "Legends in Training" that feature players such as Peyton Manning, Larry Fitzgerald and Tony Gonzalez to name a few as well as instruction from professional coaches and trainers. SOTL.com and SOTLTraining.com are official licensed partners of NFL Players, Inc.